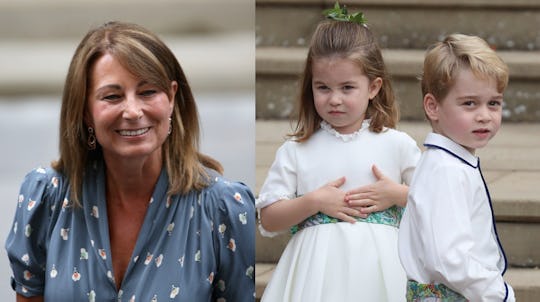 Peter Macdiarmid/Getty Images Entertainment/Getty Images WPA Pool/Getty Images Entertainment/Getty Images
Kate Middleton's Mom Shares Her Helpful Tip For Raising Polite Kids
If there's anything that's standout about the royal kids — aside from, perhaps, their world-class fashion choices — it's their manners. In fact, most people remain in awe of how well Prince William and Kate Middleton manage to maneuver their kids through all of the press, crowds, and events that they do, and generally manage to keep it together. (There are a few meltdowns here and there, but hey, that's totally normal.) But Kate Middleton's mom's tips for raising polite kids might shed some light on their awesome upbringing.
As good as Duchess Kate is as a mom, it's clear that she learned it from the best: her own mother. In a rare interview with The Telegraph, Carole Middleton opened up about her party planning business (which is celebrating its 30th anniversary) her life as a grandmother, and what it takes to raise children as well as she did (or at least, hopes she did).
"This might surprise you, but I think one of the most important qualities of a good parent is discipline," the mother of three and grandmother of four recently told The Telegraph. (It actually isn't surprising, TBH.) "That doesn't mean you're strict, but routine is vital. Maybe structure is a nicer word. You can't suddenly start teaching them about politeness at 13. You have to do it from the start."
Her approach, generally speaking, is valid. Even recent research shows that a good routine can impact a child's sleep, which ultimately impacts their mood, energy and performance in school. Education.com also reported that giving a child a routine helps them find a sense of "safety and security," and that sense of knowing what's coming and what's expected can dramatically improve behavior.
However, maintaining a perfect schedule is something that can be challenging when you're a working mother, something Middleton understands well.
She went on to say that she believes she was able to remain an active part of her children's lives, even though she was also an entrepreneur, though there were times when she feared she wasn't doing enough for them.
"I'm definitely hands-on. I don't find it complicated. My biggest fear [as her children grew up] was that I'd lose my family, but we've stayed close. There are times when they say, 'Can you do this, or that?' And I can't quite," she told The Telegraph. "But they like the fact that I work. I have two lovely sons-in-law (Prince William and Pippa's husband, James Matthews), and I hope I'll have a lovely daughter-in-law."
Interestingly, this was the second interview that Middleton did in a two week timespan, which is significant, as the Daily Mail pointed out, as she has not spoken to the press in 15 years.
Regardless, Middleton also spoke to Good Housekeeping, explaining how her business was really a family affair. "My children have all worked for the business. Catherine started the First Birthday brand, she chose the products and looked after all the imagery and the catalogue production," she told the publication. "Pippa set up the blog, as we didn't have one. James came up with the idea of personalized cakes and got them off the ground for us."
It's clear that Middleton is nothing if not a hands-on mother and grandmother, and as far as the rest of the world is concerned she's clearly done an amazing job raising her undeniably polite kids.
This first-time mom wants to have a home birth, but is she ready? Watch how a doula supports a military mom who's determined to have a home birth in Episode One of Romper's Doula Diaries, Season Two, below. Visit Bustle Digital Group's YouTube page for the next three episodes, launching every Monday starting November 26.