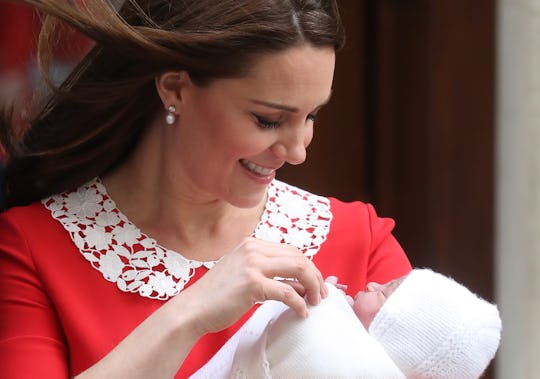 Chris Jackson/Getty Images Entertainment/Getty Images
Kate Middleton Shared A Sweet Update About 7-Month-Old Prince Louis
It's very rare for royal watchers to get any updates about the youngest royal, Prince Louis. The son of Prince William and Kate Middleton has only made infrequent appearances since his birth in April. But while people can't see him, they can rely on updates from his parents. Because of this, people will love Kate Middleton's new update about Prince Louis will make everyone agree that he is growing up so fast — even if they can't see that he's growing up.
There's only a few things that people know about Prince Louis. For example, based on photos they've seen of him, they know that he closely resembles his famous family members. But now they can add a new fact to their list. During a visit with Prince William to Leicester University on Wednesday, Middleton reportedly gave a brief update about Prince Louis to well wishers, according to People.
"Louis' getting bigger, I can't believe he's like seven months, he's getting to be a big boy," Middleton reportedly said, according to People.
That's the update — people now know that the littlest prince is getting bigger. It might not be much, but royal watchers will take all that they can get at this point.
But people are pretty aware that Prince Louis has gotten bigger. It would make sense, since, as previously stated, he was born in late April, according to TIME. People have been able to see it with their eyes, too. After getting a glimpse of Prince Louis hours after he was born, people had to wait until his christening in July to see him again, where he looked so adorable and noticeably different. After new photos of Prince Louis were released earlier this month, according to Town & Country, it was quite clear that the little boy has grown so much and is clearly developing his own personality. Although these updates might be so far and few between, the fact that they're so rare makes them all the more special and exciting — and allows people to get excited for the next Prince Louis update.
Even though it might be a while until there is another Prince Louis update, Middleton and Prince William aren't shy about updating fans on their two older children — 5-year-old Prince George and 3-year-old Princess Charlotte. During the same royal appearance, Middleton told well wishers that her children are so excited for one upcoming holiday in particular. Middleton reportedly said, according to People:
They're getting excited for Christmas time, because they've started all their Christmas songs and the Christmas trees are going up.
If her new update about Prince Louis wasn't amazing enough, this new update about the older kids is just as good. It's so sweet to imagine how excited Prince George and Princess Charlotte are for the holidays, and Middleton's update about her kids pretty much proves that.
The great news is, it might be a short while before people hear about or see Prince Louis. It's likely that Prince Louis will make his next appearance on Christmas, according to Elle, when the royal family could pose for their next official portrait. Thank goodness.
This has been an incredibly exciting year for the royal family and their fans. Just last month, Prince William's brother, Prince Harry and his wife, Meghan Markle, announced that they were expecting a child of their own, which means that Prince George, Princess Charlotte, and Prince Louis will soon have a cousin to hang out and spend time with.
One can only hope that there will be plenty more Prince Louis updates to come within the next month. But, 2019 is gearing up to be another exciting year for the royal family — and there will be a lot more Prince Louis updates to come, then.
This first-time mom wants to have a home birth, but is she ready? Watch how a doula supports a military mom who's determined to have a home birth in Episode One of Romper's Doula Diaries, Season Two, below. Visit Bustle Digital Group's YouTube page for the next three episodes, launching every Monday starting November 26.