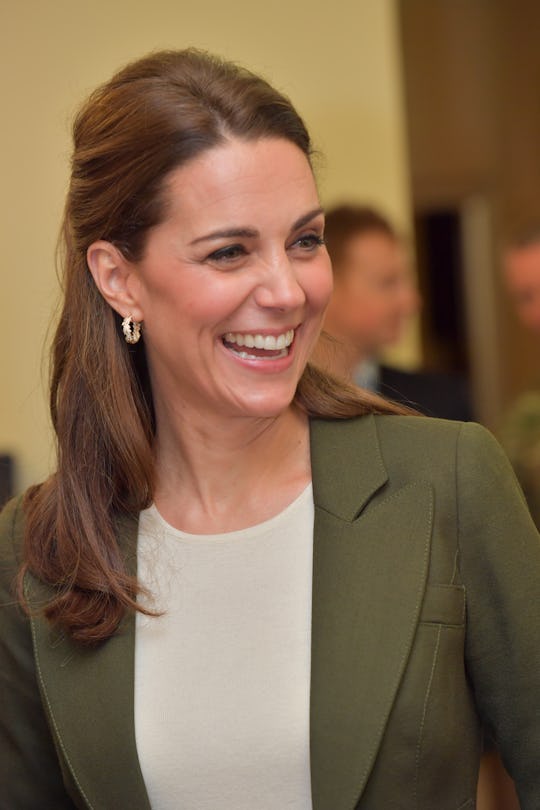 WPA Pool/Getty Images Entertainment/Getty Images
Kate Middleton's Old Apartment Is For Sale, But The Cost Will Make Your Jaw Drop
How's this for a scenario? You're young, smart, gorgeous, and have just gotten your own place in the city, to share with your sister, who's also one of your closest friends. Sounds perfect, right? That was the Duchess of Cambridge's exact life before marrying into the royal family — and now it can be yours, too — for some serious coinage. Kate Middleton's old apartment is for sale... and the price tag will definitely make your jaw drop.
As reported by Cafe Mom, England's future queen was, before marrying Prince William, the well-heeled daughter of a well-to-do British family, the Middletons, who clearly wanted to make sure their early-20s daughters would hit the big city in serious style. As such, they purchased a charming flat in London's adorable Chelsea area, the kind of building that's been redone, but also kept plenty of vintage charm. In other words, it's basically perfection.
According to Cosmopolitan, the two-story pad was purchased by the girls' mom and dad, Michael and Carole, in 2002 for about $975,000 or £780,000. With real estate having zoomed up, though, the place — featuring three bedrooms, including a master suite, common (or "reception" ) area with built-in bookshelves, and updated kitchen with stainless-steel appliances — can now be yours for $2.5 million.
And while there's no word on which Middleton sister scored that larger bedroom in this gorgeous apartment, I gotta say, this place absolutely rules as your first post-college crash pad, certainly in comparison to my first apartment, which was actually a mattress on the second-story landing at my big sister's place.
While tony London real estate firm Knight Frank currently shows the apartment decorated in soothing neutral tones and with tasteful accents, it's fun to picture the pad looking a bit more girly and bohemian back in the day, when Pippa and Kate were both single young women out on the town (though, of course, I don't know for sure what it looked like).
After all, as Glamour noted, Kate and William were off and on at points in their relationship, and Kate and Pippa were photographed partying in a variety of hemlines that neither might wear now.
And while there hasn't been any sort of official statement from the senior Middletons on why they are selling off the property now, InStyle noted that it could just be all in the timing.
As the magazine added, Kate and William live with their children at Kensington Palace's swanky Apartment 1a, which boasts about 20 rooms. Pippa, her husband James Matthews, and their new baby, meanwhile, have their own recently-renovated London home. So neither sister is likely using the flat on a regular basis.
In case you were wondering about the elder Middletons' accomodations, the Middletons have a lovely place of their own in Bucklebury, in Britain's West Berkshire... a house worth £6 million ($7.5 million) according to the UK's Express newspaper. So I guess they feel they can part with the memories from the old flat.
And while Kate and Pippa's former apartment is clearly stunning enough to sell on its own terms as a very chic place with a great location, there's also, of course, the fact of its former residents. Some lucky buyer won't just get a great location in one of the coolest cities in thw world, but will also get to soak up the vibes of what turned out to be royal history in the making.
After experiencing a traumatic c-section, this mother sought out a doula to support her through her second child's delivery. Watch as that doula helps this mom reclaim the birth she felt robbed of with her first child, in Episode Three of Romper's Doula Diaries, Season Two, below. Visit Bustle Digital Group's YouTube page for more episodes, launching Mondays in December.EMBED: