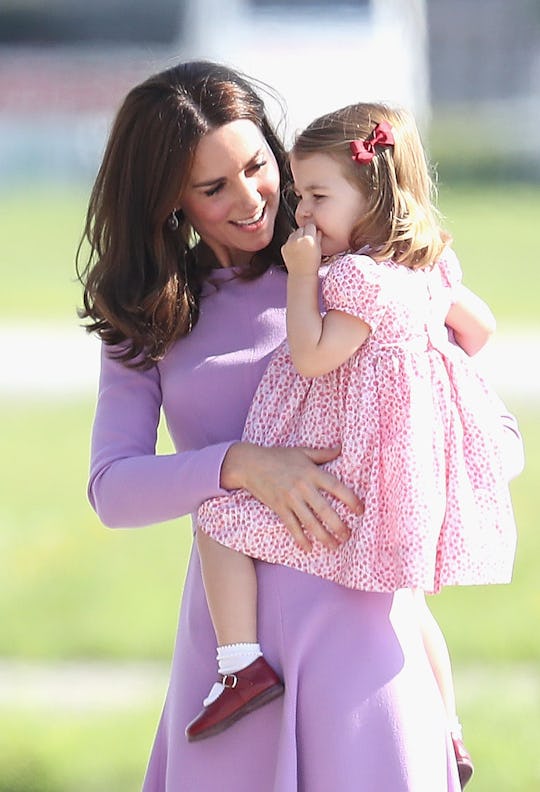 Chris Jackson/Getty Images Entertainment/Getty Images
These Photos Of Princess Charlotte's First Day Of Nursery School Are Just The Cutest
It may be cold outside, but prepare to feel all warm and fuzzy anyway. Kensington Palace just released photos of Princess Charlotte on her first day of nursery school and, unsurprisingly, they're adorable. The best part? The pictures were reportedly taken by her mother, the Duchess of Cambridge Kate Middleton. Royals, they're just like us! (Except not at all.)
In the official pictures posted on Monday morning, the 2-year-old princess seems excited to head off to her first day in style, wearing a red coat and matching hair bow, a pink scarf and backpack, grey tights, and Mary Janes on her feet. All in all, she's already far more fashionable than I have ever been or could ever hope to be. And she's not just relying on the clothes to do the work for her. She's got her posing down.
Kensington Palace released two pictures taken right on the steps of Kensington Palace just before Charlotte went to her first day at the Willcocks Nursery School in London, according to CBS News. In one, she sits with her hands on her lap and a smile on her face. But in the other, she's standing and holding onto the railing, one leg beveled like a freaking Rockette, ready to show her schoolmates what they've been missing all of their (still very short) lives. Go get 'em, Charlotte.
Fans of the royal family knew to start preparing themselves for an imminent first-day-of-school cuteness display back in December, when Middleton and Prince William revealed their annual Christmas card. In the photo, the Duke and Duchess of Cambridge posed with Charlotte and her older brother George, who's now 4. And in the accompanying information, they announced that Charlotte would begin nursery school at the Willcocks Nursery School in January. The BBC reported that the school, which is different from the one that Prince George attended, is right by Kensington Palace.
In response to the news that Charlotte would be attending, Willcocks Nursery School said, in a statement reported by Kensington Palace:
We are delighted that The Duke and Duchess of Cambridge have chosen the Willcocks Nursery School for Princess Charlotte. We look forward to welcoming Charlotte to our nursery in January.
Naturally, the internet is just losing it over the Princess Charlotte photos. She's already getting multiple comparisons to Gossip Girl's Blair Waldorf:
And plenty of other people are wondering how they can get Princess Charlotte's red coat for their own children, or maybe just for themselves:
Middleton and Prince William clearly know that the people of the world want adorable photos of the first day of school, and they've been very obliging. Back in September, Prince George went off to his first day of elementary school at Thomas's Battersea in London, and Kensington Palace shared a completely delightful photo of Prince George in his school uniform on the steps, holding his father's hand and ready for action. (It's unclear whether or not Middleton was there for that one, given that she was experiencing pretty severe morning sickness at the time, according to TODAY.)
In just a few more years, fans of the royal family will likely be getting a whole new batch of school photos. Middleton is pregnant with the couple's third child, and is due in April.
All in all, it's a weird time in the world, but at least the royal family is giving people lots to be excited about. In addition to the pregnancy, and to all the cuteness with Prince George and Princess Charlotte, the Prince Harry and Meghan Markle engagement has many cynics believing in fairy tale love again.
So, thank you, Kensington Palace for giving the Twitterverse a chance to stop arguing, and to just agree on one indisputable fact — Princess Charlotte is freaking adorable.
Check out Romper's new video series, Romper's Doula Diaries:
Watch full episodes of Romper's Doula Diaries on Facebook Watch.