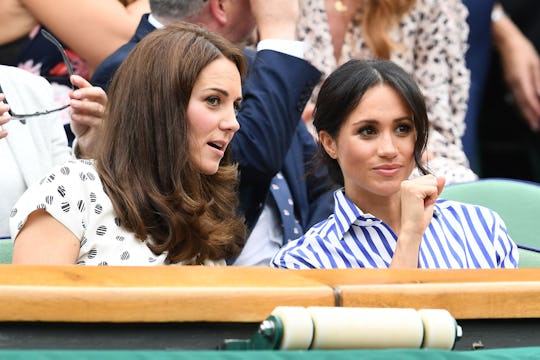 Clive Mason/Getty Images Entertainment/Getty Images
Kate Middleton Is 100% There For Meghan Markle During Her Dad Drama
Family drama isn't fun for anyone, but I'd imagine it's even harder when your business is broadcasted on the cover of every tabloid in two countries. Every fairytale has a villain and many believe that one Duchess has one in the form of her father. Fortunately, she also has a very special confidant. Kate Middleton's reaction to Meghan Markle's dad drama is super sweet; the Duchesses are seriously #squadgoals.
Thomas Markle, father to Prince Harry's bride, has given more than his fair share of embarrassing interviews since his daughter moved into the royal spotlight. In his most recent discussion with the Mail on Sunday, he called his daughter "cold," stated that she would be "nothing" without him, and got seriously dramatic. "Perhaps it would be easier for Meghan if I died. Everybody would be filled with sympathy for her," he said. "But I hope we reconcile. I'd hate to die without speaking to Meghan again." I couldn't make this stuff up, you guys.
While he certainly didn't win any points from his Meghan's many supporters, Markle seems to have strengthened his daughter's bond with another of her family members: Kate Middleton. That's right, a source close to the family told Vanity Fair that the Duchess of Cambridge relates to Markle's struggles and is there for her as a "pillar of support."
The source told Vanity Fair that Middleton empathizes with Meghan and has firsthand knowledge of how media coverage of family scandal feels, saying:
Kate's well aware of what Meghan is going through. Her family has been dragged through the tabloids and she knows it's not nice. She's made a big effort to be kind to Meghan and look out for her.
Café Mom suggested that the source is referencing a 2017 report that Middleton's uncle, Gary Goldsmith, was charged and pled guilty to domestic violence. It seems that Middleton's experience with a family member with a less than pristine reputation has led her to look out for her sister-in-law. The source also added that any circulating rumors about the two duchesses not getting along are false:
They speak on the phone and Kate makes a point of inviting Meghan over. I'd say they try to see each other once a week, sometimes with Harry, sometimes Meghan goes on her own. Sometimes with Harry, sometimes Meghan goes on her own. Kate's really busy juggling three kids; she has a lot on her plate and she has her own friendship group, but she has made an effort with Meghan.
Along with reportedly hanging out on a regular basis, Meghan and Middleton attended Wimbledon together and expressed some serious solidarity with their friend Serena Williams — their first public outing alone together. The photos of the two of them there make it easy to imagine there being a regular Duchess hangout session, and I totally want to be there. All joke aside, it's great to know that Meghan has a support system during what is most likely a difficult time.
But Middleton isn't the only one who has Meghan's back when it comes to the awful things that her father is saying. Chrissy Teigen is using her powerful Twitter presence to call him out. She tweeted out, "this guy...this guy sucks. what is wrong with him? let your daughter be happy, please. this is embarrassing."
Who knows if Thomas Markle will ease up on the embarrassing interviews, but it is good to know that in the mean time she has plenty of great friends on her side. It is often said that "friends are the family that we choose for ourselves," and Meghan has chosen well.