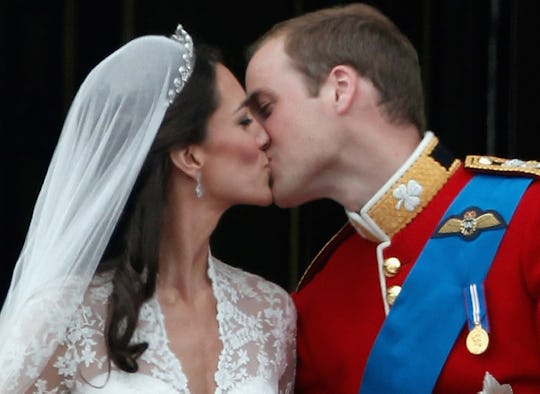 Christopher Furlong/Getty Images Entertainment/Getty Images
Here's What Kate Middleton's Royal Title Will Be When Prince William Becomes King
I have a confession. I've always been confused by the Lady Diana/Princess Diana titles. I mean, I know she was Lady Diana Spencer before she married Prince Charles, but after the marriage she was officially titled the "Princess of Wales," but not "Princess Diana." How does that work? The same situation arises for the Duchess of Cambridge, whose husband is in line for the throne. She is Kate Middleton, the Duchess of Cambridge, but she is not Princess Kate. So what will Kate Middleton's title be when Prince William is king?
Like Camilla Parker-Bowles, Prince Charles' wife, when Kate Middleton's spouse takes the throne the title she will gain will be consort, according to The Sun. And because she is a woman, as noted by The Sun, she will be the "Queen Consort," which translates to "the wife of a reigning king." But British royal titles always seem to have some unique rules attached that make them confusing, and consort is no different.
Interestingly enough, though, Prince Philip's full title — which is actually 133 words long, according to Business Insider — doesn't have any official title marking him as the queen's consort, or "King Consort." That was decided as a matter of preference in the 1950s in a series of letters between Winston Churchill, various member of parliament, and the queen, which have been preserved by the National Archives.
When Camilla Parker-Bowles and Prince Charles first married it was decided that if and when Prince Charles ascends the throne, she would be the first princess consort, according to Good Housekeeping. That decision was made because at the time of their marriage, Parker-Bowles was not well-liked by the public, as reported by Good Housekeeping. Just this year, in fact, the mention of princess consort was removed from the prince's website. That has led people to believe that since the public has warmed to Parker-Bowles she will, in fact, hold the title of queen consort, as reported by Good Housekeeping.
Because the public likes to make things simple, even though queen consort is an official title the wife of the king is generally just referred to as the queen, according to Town & Country. Queen Catherine sounds so proper for the lively and beloved Middleton, but if she's anything like her husband she may already be preparing for her future role.
In fact, according to People, Prince William has been in training for his eventual duties since he was young. Royal historian Robert Lacey, who consults on the Netflix series The Crown, told the magazine that the queen has taken a special interest in her grandson. "It's no secret that she and Charles have had a prickly relationship at times," Lacey told People. "When William became a teenager, she would have him at Windsor Castle and would open the state boxes and guide him through the papers. It was William's constitutional education." (I love to picture her giving him cookies and milk while all this took place, but that's just me.)
Prince William seems to have absorbed the education because he fully understands his grandmother's approach to leadership. "My grandmother takes more of a passive role in how she believes her role should be. She's above politics," he said, according to People.
Many people seem to believe that the younger members of the monarchy — including Prince Harry and Meghan Markle, Princess Beatrice and Eugenie, and Prince William and Kate Middleton — will be the generation that brings fresh vitality to the monarchy. Ingrid Seward is the editor-in-chief of Majesty magazine and told MSN that could very well be the case. "He will be more accessible — he has to be for a modern age. More of a movie star and less of the mystique," Seward told MSN. Does that mean his wife will insist on being Queen Kate rather than uber-formal Catherine?
Regardless, they are already the royal couple that the whole world has their eye on as they navigate marriage, family, and the demands of a royal position. And they're doing it with substance and style.