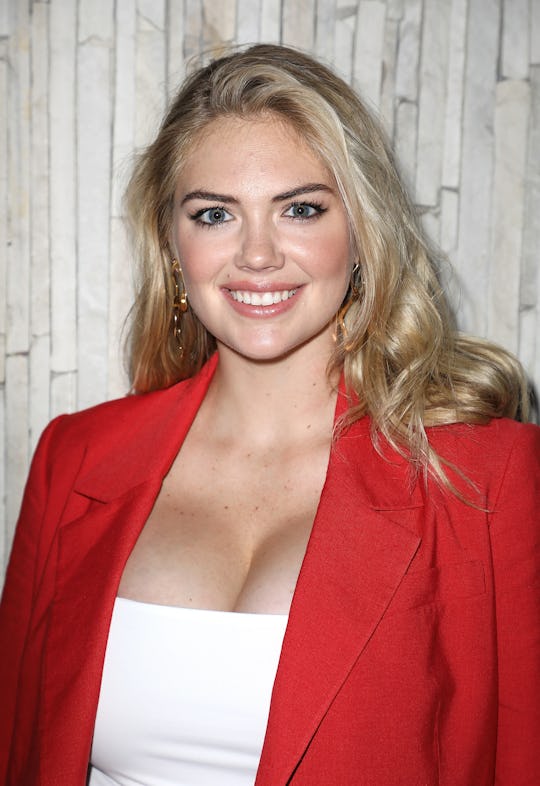 Alexander Tamargo/Getty Images Entertainment/Getty Images
Kate Upton Announces She's Pregnant In The Most Subtle Way
Make room on the runway! Over the weekend, supermodel Kate Upton announced she's pregnant with her first child with husband Justin Verlander, pitcher for the Houston Astros, according to People. Fans, of course, couldn't be more thrilled!
The 26-year-old mom-to-be revealed the pregnancy news in the most subtle way possible: Through a hashtag on Instagram, People reported. On Saturday morning, Upton posted to her Instagram account a photo of herself wearing a gorgeous deep red pantsuit and white top, with the caption, #PregnantinMiami.
What a way to spill the beans!
The one thing Upton did not reveal is how far along she is in her pregnancy, and it's unclear from the Instagram which trimester she is in. But it does show a slight hint of a baby bump.
She also tagged Verlander, who she married in November in a swanky ceremony in Italy just days after the Houston Astros won the World Series, according to TMZ. The Astros pitcher reposted Upton's photo to his Instagram account on Saturday afternoon, adding his own caption, which is honestly the sweetest message ever.
Verlander wrote, "You're going to be the most amazing Mom!! I can't wait to start this new journey with you! You're the most thoughtful, loving, caring, and strong woman I've ever met!"
He continued in his Instagram post:
I'm so proud that our little one is going to be raised in this world by a woman like you! I love you so much.
Fans flooded Upton's Instagram post with comments congratulating the couple on their first child together — and how could they not? One user commented, "Looks like the destination wedding was a success ;) Congrats!!!!," while another wrote, "Congratulations❤️ you're going to great parents!"
Some also made reference to Verlander's baseball career, with one commenting saying, "Congratulations!! You have to get the official OB for the Astros' Babies!!! He's the best!" Another wrote, "Offseason baby well played Justin."
Some Instagram users even took the time to dispense some advice to help make Upton's pregnancy the easiest nine months possible. One user had this helpful tidbit to share on the Sports Illustrated Swimsuit model's post:
[D]rink lots of water, eat fruit and veggies to stay regular because hemmoroids [sic] are a pain in the u know what. trust me.
(As a mom, I can absolutely confirm that the hemorrhoid problem during pregnancy is no joke.)
But fans weren't only excited over the news on Instagram. Many Twitter users couldn't help but also share their happiness for the newlyweds.
So why is Upton #pregnantinMiami? The supermodel is in Florida for Swim Week to help mentor models taking part in Sports Illustrated's #SISwinSearch event, according to E! News. Fellow model Christie Brinkley, who's also in Miami, reportedly congratulated the mom-to-be in person, telling her that she will make "a wonderful mom," E! News reported.
Upton and Verlander went public with their relationship back in 2014, and became engaged two years later, according to People. The 35-year-old World Series winner popped the question before the 2016 baseball season started, giving Upton a custom-designed ring designed by jewelry Anita Ko. But the couple didn't reveal the engagement news publicly until the Met Gala later that year, People reported.
In March, just few months after the pair got hitched in Italy, Verlander told People:
Married life's been great. I married my best friend, and we do everything we can to spend as much time together as possible. Honestly, I couldn't be happier. It's been a lovely first year of marriage.
Now, Upton and Verlander are expanding their family, and are in for an exciting ride. Congratulations to the parents-to-be!