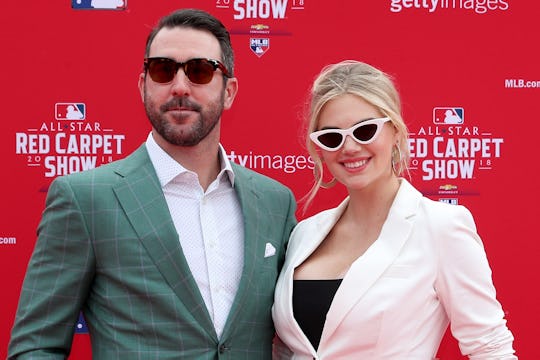 Patrick Smith/Getty Images Sport/Getty Images
Kate Upton & Justin Verlander Give Birth To A Baby Girl & Share First Photos
Congratulations are in order for the Upton Verlander family! Kate Upton and Justin Verlander welcomed a baby girl last week, and both the model and the baseball player confirmed the happy news — and shared their daughter's adorable name and first photos — on Instagram this weekend.
On Saturday evening, Upton posted a closeup shot of her baby, whom she named Genevieve Upton Verlander. Other than the fact that her initials spell "GUV," Genevieve is such a beautiful name!
In the black-and-white photo, Genevieve is resting, with only the bottom half of her face and one tiny hand exposed. "Genevieve Upton Verlander 💗 11.7.18," Upton captioned the image. Verlander shared an equally adorable black-and-white picture, featuring all three family members hold each others' hands. "Welcome to the world Genevieve Upton Verlander. You stole my ❤️ the first second I met you!!! 11.7.2018," the new dad wrote.
Genevieve is the first child for both Upton and Verlander, and it's clear they're both so grateful and excited to become parents. The couple announced Upton's pregnancy over the summer with a very casual Instagram post. "#PregnantinMiami @justinverlander 🌞❤️," Upton captioned a shot of herself wearing a red pantsuit and fabulous sunglasses in mid-July.
The Houston Astros player reposted the same fierce photo that day with a caption praising his wife. "You're going to be the most amazing Mom!! I can't wait to start this new journey with you!" Verlander wrote. "You're the most thoughtful, loving, caring, and strong woman I've ever met! I'm so proud that our little one is going to be raised in this world by a woman like you! I love you so much."
Upton didn't share too many pregnancy updates over the last four months, but in a September interview with People, she opened up about how pregnancy has affected her exercise routine. She told the magazine that she had to stop working out for a month because she was really "tired and there was so much travel," but then things turned around. "But I've been completely trying to stay healthy and work out through the pregnancy, and doing the best I can," she added. "It makes me feel better, honestly."
She also told People that she hadn't been having any weird cravings, much to her husband's dismay. "He kept being like, 'I can't wait for the pickle run in the middle of the night,' " she recalls. "I'm like, 'OK.' But I haven't had anything. I'm fine with all food."
Little Genevieve's birth came almost exactly one year after Upton and Verlander got married. The couple tied the knot in Tuscany, Italy on Nov. 4, 2017, just two days after the Houston Astros played (and won) Game 7 of the World Series, according to Vogue. And since then, Verlander has taken advantage of every opportunity to praise his wife. For example, on their one-year wedding anniversary last week, he posted a glamorous photo of Upton at their wedding.
"I feel like the luckiest man in the world to have married my best friend. Every day you inspire me to want to be better. You are such a strong woman but yet still so very caring. You stand up for what you believe in," he wrote. "You are my everything and I am so blessed to experience this crazy journey of life together with you. Happy 1 year anniversary to the best wife anyone could ever ask for!"
Here's hoping Kate Upton and Justin Verlander share more updates on baby Genevieve soon.