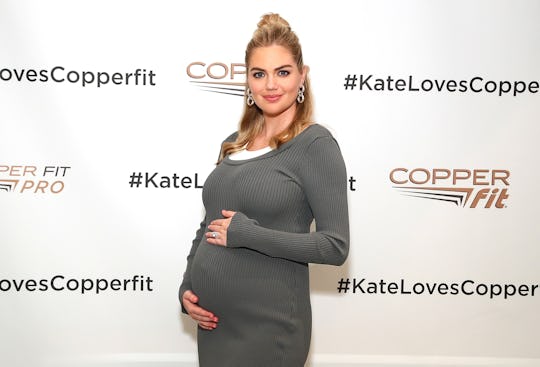 Astrid Stawiarz/Getty Images Entertainment/Getty Images
Kate Upton's Husband Justin Verlander Was Looking Forward To Her Pregnancy Cravings
When a woman becomes pregnant for the first time, it can be difficult to know what to expect. Sure, movies do a pretty good job of highlighting certain symptoms — like morning sickness and crazy, middle-of-the-night cravings. (Think pickles and ice cream.) But the fact of the matter is not all women experience these cliche side effects of being with-child. Not to mention, there's a slew of other potential symptoms that pop culture tends to overlook. In fact, Kate Upton's husband Justin Verlander was looking forward to her pregnancy cravings — but they never came.
As Us Weekly reported, the world first learned that Upton andHouston Astros pitcher Verlander — who tied the knot in November, 2017 — were expecting their first child back in July. The mom-to-be revealed her happy news via Instagram while on a vacation in Florida, according to the publication. Alongside a photo of herself standing on the balcony of a hotel room showcasing her bump, Upton captioned the shot simply with, #PregnantinMiami."
Fans were clearly excited for the model/actress, as they commented on her announcement post in droves with their well-wishes. One follower wrote, "Congratulations. You will be a great Mom! Enjoy this blessed time!"
"Another Instagram user commented, "Congrats, you Look beautiful ❤️❤️❤️."
Yet another person chimed in with, "Awwww!!!! Congrats my dear, no doubt you will be one ammmaaaaazing mom!!!"
In a recent interview with People, the expecting mom opened up about how pregnancy has affected her day-to-day life so far. "Justin was the most excited about weird cravings," the model told the publication. "He kept being like, 'I can't wait for the pickle run in the middle of the night,' I'm like, 'Okay.' But I haven't had anything. I'm fine with all food." (LOL, kudos to Verlander, though, for the thought.)
During this same interview. Upton revealed that she stopped working out for a few weeks because she was "so tired and there was so much travel." However, apparently she's back at it now that her energy is back up. "I've been completely trying to stay healthy and work out through the pregnancy, and doing the best I can," she told People. "It makes me feel better, honestly."
As Healthline reported, a study published in Frontiers in Psychology found that between 50 and 90 percent of American women experience some type of food craving during pregnancy. Although experts aren't sure why these cravings happen, there could be a few culprits, such as: Hormonal changes, the body's response to the extra work it's doing to produce a significantly more blood, or just that these foods are comforting. Whatever the reasoning, clearly these bizarre cravings don't affect all women equally. Case in point: Kate Upton.
Breast tenderness and foot/ankle swelling were two things I've never experienced through all four of my pregnancies. But I can pretty much check off every single of the other cliche symptoms, including: Morning sickness, food aversions and cravings, a heightened sense of smell, chronic fatigue, and rampant heartburn. Although the severity of these symptoms has varied from pregnancy to pregnancy, they've always shown up without fail. And much to my dismay, my bump has managed to make its debut sooner and sooner with each kiddo.
Because my pregnancies are so obviously riddled with unpleasant side effects, it's insane to me that some women literally have zero pregnancy symptoms. (And some don't even know they're pregnant until they go into labor!) But it happens more often than you might think. I guess that's the thing with pregnancy — it's different for every woman, and it can even vary for the same woman from pregnancy to pregnancy.
With that said, if Kate Upton does does eventually experience middle-of-the-night cravings for, say, Taco Bell, hopefully her husband is true to his word and makes a T-Bell run. Because few things are more unpleasant than a hangry pregnant woman with an unmet craving.