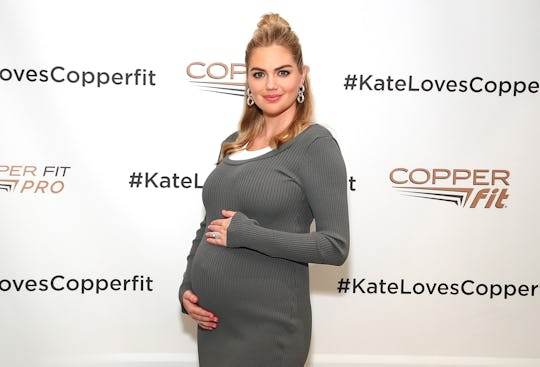 Astrid Stawiarz/Getty Images Entertainment/Getty Images
Kate Upton Celebrates First Two Weeks With Baby Genevieve With Instagram Post
There's nothing like the very first couple of weeks bonding with a new baby, and there's something extra-magical about when it's your first. So Kate Upton's Instagram post celebrating the first weeks with new baby Genevieve is a reminder that first-time motherhood is so, so precious.
Upton gave birth on Nov. 7 to Genevieve Upton Verlander, her first child with husband Justin Verlander, a pitcher for the Houston Astros who she married a year ago — the same weekend he won the World Series, as per Glamour magazine.
Like most new moms, the actress and 2017 Sports Illustrated Swimsuit Issue cover model (also per Glamour) seems totally gaga over her bundle of joy.
"Happy 2-week birthday to my sweet Genevieve," she posted, alongside a cute black-and-white photo of the adorable parents, with Verlander cradling her pre-birth bump. "It's crazy we took these photos less than a month ago and now you're out in the world with us. I'm so grateful to be your mom!"
I just love being reminded of this once-in-a-lifetime moment in a family's history, where a first baby has arrived and absolutely stolen your heart. Fans seemed to agree: "Congratulations!! To your beautiful baby you are both wonderful people will make great parents!!!" wrote one, while another chimed in: "What a beautiful picture!! True Love!!"
Another user had a great idea: "Hi @kateupton...In the Philippines we have a tradition where...Essentially we throw a party from month one to the 1st Birthday. That's how we cherish the birth of our sons and daughters! Best of luck with your baby!"
I love that idea of really making a conscious effort to celebrate the whirlwind of the few weeks and months with a new baby. And no doubt Upton is trying to follow that advice, leading an ultra-busy life herself.
She wed Verlander in Tuscany, Italy in a lacy Valentino gown last year, according to Harper's Bazaar, then announced her pregnancy on Instagram over the summer while in Miami.
Meanwhile, the star has also been juggling a partnership with Copper Fit, a line of copper-infused workout gear, and launching her own online workout guide, Strong4Me Fitness.
Upton also shared with People that her pregnancy wasn't as stereotypically quirky as her hubby would have hoped: "Justin was the most excited about weird cravings, she told People in September. "He kept being like, 'I can't wait for the pickle run in the middle of the night.' I'm like, 'OK.' But I haven't had anything. I'm fine with all food."
After what sounded like an easy pregnancy, now that baby Genevieve is here, the holidays are going to be different for first-time parents Upton and Verlander.
For one, the first holiday season after baby arrives, a lot of moms get very busy buying Tartan-patterned infant dresses and getting "Baby's First Christmas" ornaments engraved. (In Upton's case, she told People she did not know the baby's gender in advance, so now she has the chance to go wild with holiday outfits.)
What new parents sometimes forget is that there will be many more holiday seasons to come, so there's no need to push it or get everything done all at once. Congrats to new mama Upton and kudos to you for making sure that you enjoy this special time.
Season 2 of Doula Diaries shares the stories of fearless doulas helping their clients take control of their births and make tough choices that feel right to them. Watch the first episode of the new season Monday, November 26th.