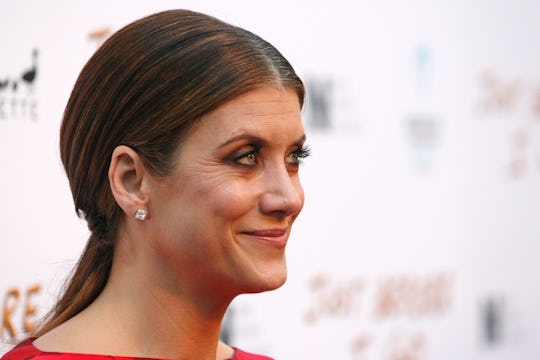 Kate Walsh Can't Have Kids Due To Early Menopause & 4 Other Celebs For Whom Babymaking Isn't Easy
Counter to what many surprise babies suggest, getting pregnant is actually a pretty complex biological process. And though celebs deserve their privacy, more and more of them are stepping forward and talking about this difficult topic. On Wednesday's Conversations with Maria Menounos on SiriusXM, actress Kate Walsh admitted she is experiencing early menopause and will not able to have children.
During the interview, the 48-year-old pointed out that early menopause is becoming more common. And research supports her claim. A 2011 study conducted by Imperial College London found that 1 in 20 women are affected by premature menopause — with risk factors ranging from smoking to socioeconomic class. However, the U.S. Office of Women's Health points out that cancer treatments, genetics, and some autoimmune diseases can also as well. Though this number is staggering, it hasn't always been so high. In the eighties, only one percent of women were diagnosed with early menopause.
It may be that the condition was under-diagnosed before. Aside from pointing out how rampant this condition is, Walsh also talked about how she came to be diagnosed. After her sister was found to be going through menopause early, Walsh said she decided to seek medical attention, which she claimed "was bleak." However, she went on to talk about how the devastating news had a silver lining:
[It] was a great kind of experience and growth. I've always felt I've been, at times in my life, indecisive or have hard times making decisions. I go for what I want and I also embrace what's in front of me.
Walsh isn't the only celeb who has been vocal about the struggles when trying to conceive. These four women also talked about this difficult topic — and each of them have a different perspective:
Gabrielle Union
Gabrielle Union seems to have it all. She's cast on Being Mary Jane, one of the top TV shows and she's married to Dwyane Wade. In September, the 43-year-old told Redbook that conceiving a child "has not happened for us." She mentioned that she's not alone and that she, indeed, has a lot of friends dealing with the same obstacle. She spoke more about dealing with infertility:
There's a certain amount of shame that is placed on women who have perhaps chosen a career over starting a family younger. The penance for being a career woman is barrenness. You feel like you're wearing a scarlet letter.
Chrissy Teigen
Whether you follow her on Twitter or are gushing over her and singer John Legend, Teigen seems to be honest about everything. While she seems like an open book, Teigen said on a September episode of FabLife that she and Legend tried for years to add to their family. "I wanted to talk about it for so long," the 29-year-old told E! News. "It didn't feel right to ever tweet, 'Ugh, doing my IVF shots again.' It just sounded silly. It definitely was not planned in that episode at all."
Tyra Banks
Tyra Banks is always doing something. If she's not on the TV, she's in the middle of writing a new book. But America's Next Top Model host told PEOPLE in September that recently turning 40 and being childless has been rough on her. "Since I was 24, I used to say every year, 'I will have kids in three years.' "I kept saying it over and over again." she said. Though she is hopeful she will have "a litter" of kid, she also talked about how her and boyfriend Erik Asla sought IVF to conceive:
I've had some not happy moments with that, very traumatic moments. It's difficult as you get older. It's not something that can just happen.
Jaime King
One clear benefit of social media is how we can connect with a wide range of people And in July, Jaime King used it to do a ton of good. The model and Hart of Dixie actress took to Instagram to talk about the myriad of issues — including five miscarriages — she's encountered when trying to get pregnant with her son. Though King wrote she was diagnosed with PCOS and Endometriosis after her pregnancy, she also talked about all the medical conditions she was affected by while carrying her son:
For all the struggling women & moms out there that think they are alone...[My doctor] diagnosed me & saved my life from a severe ectopic, 5 miscarriages, 5 rounds of IVF, 26 IUI's, most with no outcome, 4½ years of trying to conceive, 26 hours of brutal labor, early delivery b/c of sudden preeclampsia, tearing and tearing after the stitches were in once I was home, milk supply issues, painful mastitis, uncontrollable crying while breastfeeding, worked until the day before I [gave] birth and went back after 6 weeks after because I was afraid of letting others down."
While it may seem like you're alone when you can't get pregnant, these women are showing that you're not alone — and that it is nothing to be ashamed of.
Image: David Buchan, Rob Kim, Mike Windle, Chelsea Lauren, John Sciulli/Getty Images Entertainment