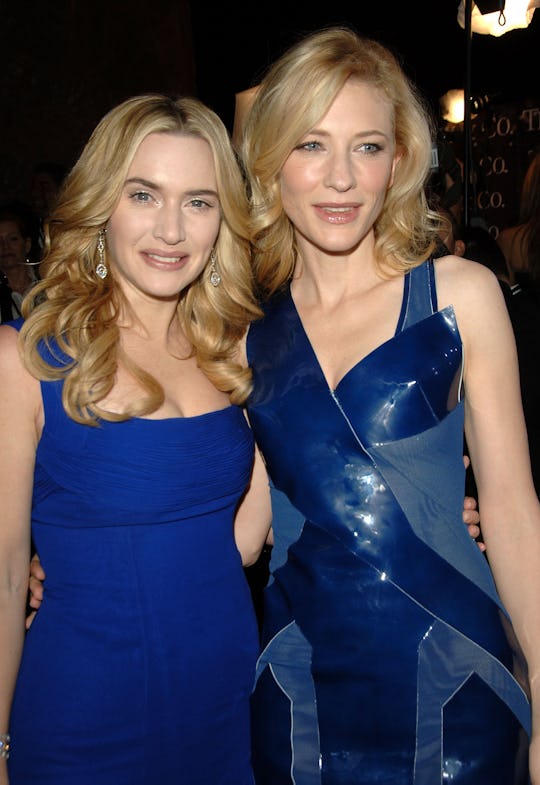 Kate Winslet & Cate Blanchett's 7 Oscar Nominations Put Them In Exclusive Company
It's a good day to be Kate... and Cate! Kate Winslet and Cate Blanchett were both nominated for Oscars this morning, which is the seventh time for each of them, putting them near the top of the Oscars' list of most-nominated actresses. Better yet, it doesn't have to be a battle of Cate vs. Kate because they are recognized in two different categories, Best Actress and Best Supporting Actress. Their continued success in the Oscar pool year after year and film after film doesn't just denote the importance of these two actresses in the industry — it highlights the importance of women to the film industry.
Winslet, who just took home a Golden Globe for her performance in Steve Jobs, earned the Best Supporting Actress nod for the same role. She faces stiff competition from Jennifer Jason Leigh (The Hateful Eight), Rooney Mara (Carol), Rachel McAdams (Spotlight), and Alicia Vikander (The Danish Girl). If you are into cheering for the underdog, any of those other actresses are they way to go: It is the first Academy Award nomination for all of Winslet's competitors, except Mara, who was recognized in 2012 for Girl With The Dragon Tattoo.
But historically, Winslet could be considered something for an underdog. She was nominated for five Oscars before finally taking home the trophy with her most recent nomination, 2008's The Reader. On the other hand, Blanchett has won twice, for 2014's Blue Jasmine and 2004's The Aviator. (Apparently working with Leonardo DiCaprio was a better luck charm for her than Winslet.) Then again, Blanchett could be at a disadvantage this year: In her Best Actress category this year, where she was nominated for Carol, Blanchett faces new Golden Globe winner Brie Larson (Room) and new Golden Globe winner Jennifer Lawrence (Joy), as well as Charlotte Rampling (45 Years) ,and Saoirse Ronan (Brooklyn).
Regardless of whether either women walks away with a new Oscar to add to her collection, they are now tied for the fifth most Academy Award nominated women, up there with the likes of legends Judy Dench, Ingrid Bergman, and Jane Fonda. They are only outdone in number of nominations by Geraldine Page (eight awards), Bette Davis (10), Katharine Hepburn (12), and, of course, Meryl Streep (19). But, considering Blanchett is just 46 and Winslet is newly 40, both will likely work their ways farther up the list of most-nominated actresses.
More than the individual accolades these outstanding female performers deserve, the fact that they are clearly so beloved by the movie industry is a major win for women as a whole. Even though women know just how indispensable women are to the industry, it's taken quite some time to get The Academy believing the same (and we're still working on it), and the continued value of Blanchett and Winslet does further good for the cause. If they've both independently earned seven nominations — a total of 14 together, duh — the message is loud, clear, and one we should all be screaming from the rooftops.
Here's hoping they both take home the golden statue, because you don't get to seven nominations by accident.
Image: Stephen Shugerman/Getty Images