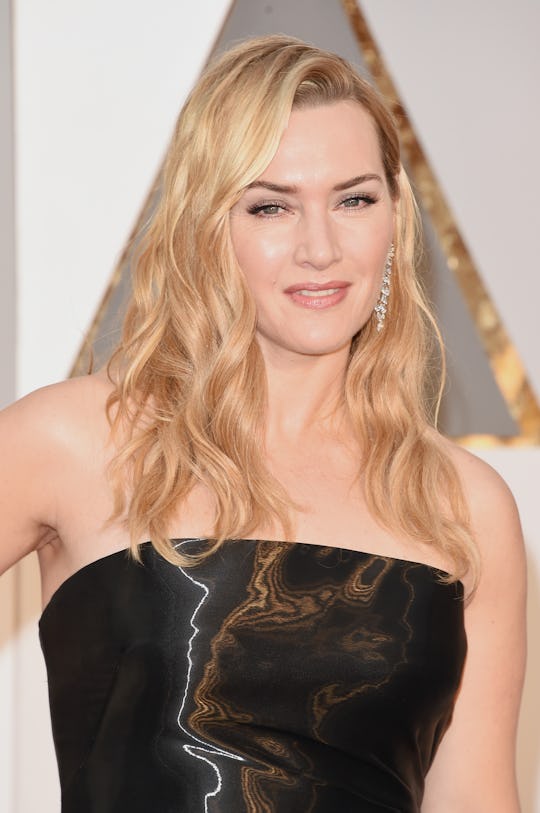 Jason Merritt/Getty Images Entertainment/Getty Images
Kate Winslet's Oscars Dress Is Stunning, But It's Nothing Compared To What's On Her Arm
Honestly, the only reason I'm even watching this 2016 Oscars circus is because I have an insatiable, shameless need to see what Kate Winslet wore to the Oscars. It's not necessarily that I don't want to see what everyone wore to the Oscars in general, but the fact is, I'm going to end up feeling rabidly jealous of pretty much every gorgeous dress that goes down the red carpet, and every flawlessly put-together ~hair and face situation~, and if I'm going to be made to feel this kind of jealousy, I would rather it come from The Queen Of The Red Carpet, Kate Winslet. Because... I mean, she's Kate Winslet; I more or less spend every day of my life being jealous of her.
Maybe you never realized that Kate Winslet is The Queen Of The Red Carpet, but I assure you, she is. She might not have the most talked about Oscars dresses...but that is actually indicative of how consistently excellent she looks at awards shows: Her exceptional taste, poise, humor, and ageless demon face always look so on point that it barely garners a mention; like, duh, of course Kate Winslet looked awesome, so let's just move on.
Yes, it admittedly feels a little odd and maybe offensive to be putting so much effort into discussing how Kate Winslet looks on the red carpet when I would certainly rather sing praise of her massive acting skills but, like, this is just what we're doing right now. Looking perfect is another of her enviable talents.
And at the 2016 Oscars, Winslet's dress... I mean, I can't really figure out what's happening here, guys, but I do know that I am into it. Take a look and let's discuss:
OK, so it looks kind of iridescent? Or is that a print? I think it's a print. I have no idea. But wow, it's gorgeous. And obviously, everything happening north of her neckline is soul-crushingly beautiful. Stay. Slay.
Oh, right, she also walked down the red carpet with this on her arm.
And now I'm jealous again. See? She's so consistent.