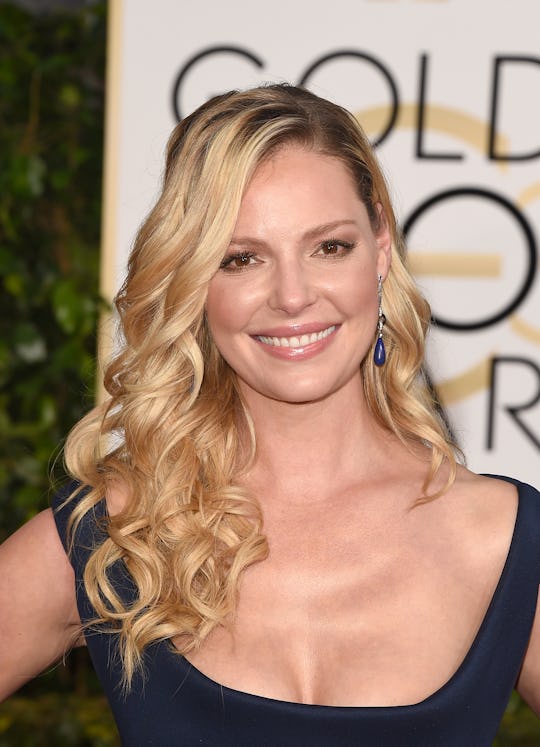 Jason Merritt/Getty Images Entertainment/Getty Images
Katherine Heigl Is Pregnant & Her Third Baby Adds A Sweet Twist To The Family's Story
There's some exciting news on the celeb baby-watching front this week. In an exclusive People magazine interview, actress Katherine Heigl revealed that she's pregnant with her third child. And while Heigl and husband Josh Kelley may well be parenting veterans at this point — the couple is already raising two daughters, Adelaide Marie Hope, age 4, and Naleigh Moon, age 7 — things will no doubt feel a little different with this announcement. For starters, the couple is expecting a baby boy this time around (yay!). And, while both their daughters arrived through adoption, for the first time the family is welcoming a biological child, according to People.
The actress told People that the new baby should arrive sometime in January and that she and her family were already counting the weeks to their new arrival:
Naleigh and Adelaide could not be more excited to welcome their new sibling into the fold and Josh and I are overflowing with joy and gratitude.
In her interview, Heigl joked that she was starting to feel the tell-tale emotional shifts that come with motherhood. "This is an incredibly exciting time for us filled with hope, anticipation, and hormones," she said. "Well, only I'm filled with hormones, but everyone in the family gets to enjoy them."
Fans who follow Heigl on Instagram have no doubt swooned over pics of the happy family and their laid-back lifestyle. And part of what stands out (in addition to the huge smiles) is how Heigl and Kelley have crafted a uniquely beautiful family picture. In past interviews, Heigl said that she was open to biological children, but that the couple had always planned to build a family through adoption. Speaking to Parent & Child magazine in 2012, Heigl said she and Kelley discussed taking a nontraditional path to parenthood even before they had officially set a wedding date:
My sister Meg is Korean, and my parents adopted her three years before I was born. I wanted my own family to resemble the one I came from, so I always knew I wanted to adopt from Korea. We have talked about having biological children as well, but we decided to adopt first. I just wanted to be a mom. So however we do that, it's fine with me.
Still, Heigl admitted in that interview that it took Kelley a bit longer to adjust to the idea of adoption:
Anyone who doesn't have experience with adoption wonders, 'Does love for a child come through DNA?' I knew it didn't. They're yours. You love them the moment they're put into your arms. Josh had to learn that, but he was so gracious and accepting.
The couple's oldest daughter, Naleigh, was adopted from South Korea in 2009, according to People; they welcomed Adelaide through domestic adoption three years later.
And it appears that Heigl and Kelley have adjusted beautifully to parenthood. Heigl, who played Izzie Stephens in the first seasons of Grey's Anatomy and starred in a series of romantic comedies after exiting the show in 2010, has been very open about how her attitude toward acting has shifted over the years, and how parenthood has helped Heigl and Kelley to embrace a simpler lifestyle. Late last year, the actress told In Touch Weekly that leaving Hollywood and living on a ranch in Utah was exactly what the family needed. "We had dreams of expanding our family, moving to the mountains and having a quieter life," she said. "We live in a small ranching town 7,000 feet up in the mountains. It's so peaceful."
Well, the bad news for the actress is that with a newborn on the way, the ranch will probably be a bit noisier — at least, for a while. But, as other parents would probably say, once the kids are all able to play together, silence will take on a much more ominous meaning in the household. Get ready, Heigl!