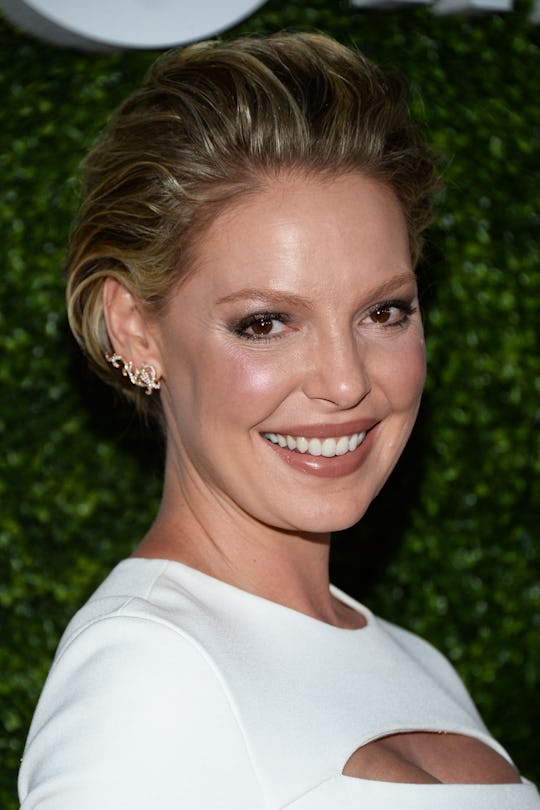 Matt Winkelmeyer/Getty Images Entertainment/Getty Images
Katherine Heigl's Take On Adoption Vs. Pregnancy
Actress Katherine Heigl is now a new mom of three after she and husband Josh Kelley welcomed their son, Joshua, in December. But despite being her third go-around at motherhood, it was actually her first pregnancy: Heigl and Kelley's daughters, Naleigh and Adalaide, were both adopted. Though Heigl has always been a big advocate of adoption (her sister, Meg, was adopted from Korea, as was Naleigh), she recently told People that getting pregnant made things kind of confusing for her girls. Katherine Heigl revealed the way she told her daughters she was pregnant, and it was a beautiful way of honoring the fact that motherhood can come about in different ways.
After sharing the news of their pregnancy with her mother, Heigl and Kelley told their girls that they were going to become big sisters, and that Heigl was actually pregnant with their sibling-to-be. Although Heigl said that she was "so relieved to get to share it," she also admitted the girls had lots of questions. Heigl told People,
[The news] was a little confusing for the girls because they'd be like, 'I grew in your tummy?' And I had to explain, 'Well, you didn't actually grow in my tummy, but your dad and I are your parents.
Heigl said she explained the difference to her daughters with help from a poem about adoption, which says, "You didn't grow under my heart, but in it." She also noted that her own experience growing up with an adopted sister helped shape her view about what it meant to be a parent:
My mother used to say this too: 'It doesn't matter how they come into your life. The moment they put that child into your arms — whether you just [gave birth] or whether they just arrived from Korea — they're yours.'
That's a message that the couple has embraced since they first adopted Naleigh in 2009, and Heigl said her sister even gave Naleigh a copy of the book, Why Am I Adopted? when she first came home, which Heigl and her siblings used to read when they were growing up. And although she understands that the girls' adoption will likely always be an ongoing discussion as the girls get older, it's one she and Kelley plan on approaching with lots of understanding and love:
We're there to support them as parents do. It's all about open communication and helping them access whatever they need to feel absolutely 100 percent secure in who they are. Whether that's about their history, their heritage, their race, their memories … we're there.
As different as the experience of welcoming a brother through pregnancy was for her daughters, Heigl also said that it was an entirely different one for her, too. And although she said she was "grateful" to have been able to experience pregnancy — something she described as "incredible ... [and] kind of magical," according to Entertainment Tonight — Heigl said the pregnancy hormones ultimately made her prefer motherhood by adoption:
[I've had] emotional highs and lows. One minute you're weirdly obsessed with this baby, like 'Don't take him out of my sight,' and the next you're kind of blue, you're a little sad and a little freaked out. I actually prefer the adoption way because I wasn't subject to hormones.
Other pregnancy challenges that caught Heigl by surprised? Weight gain and breastfeeding. Heigl said that she gained 40 pounds while pregnant with Joshua, and although she's grateful for her body, Heigl said that as "an actress who's spent her life trying to lose that last 10," she is still finding it hard to make peace with how different her body looks, according to Hollywood Life. She also admitted that she hadn't actually anticipated how complex breastfeeding can be when you're first figuring it out — and also how much of a physical change it can be, too:
You think, 'Every mammal on earth has to breastfeed. I'll be fine, right?' But it was a little complicated. And my boobs just got so ginormous, it was horrifying.
Still, none of that has put her off of the idea of having more children. One of five children herself, Heigl said she wants to continue to grow her family, even though she hasn't yet figured out exactly how. According to Hollywood Life, Heigl told People, "I'd get pregnant again, and I still am very inspired by adoption. I also have been thinking a lot about fostering. It's all up in the air."
In addition to being a beautiful, love-filled family, Heigl's continued message that there is no one right way to become a mom is one that is so valuable. And the way she was able to remind her children that she loves them every bit as much as she would if she had carried them in her belly is no doubt something that anyone who has also created a family without actually being pregnant can totally relate to and appreciate.