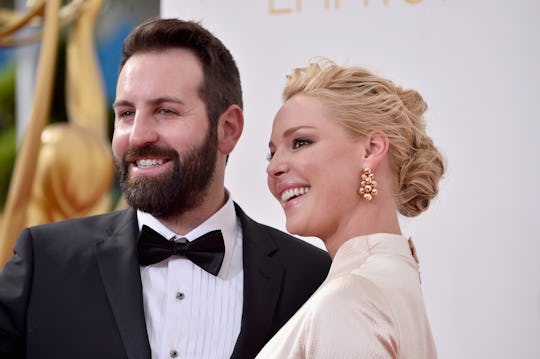 Frazer Harrison/Getty Images Entertainment/Getty Images
It's A Boy For Katherine Heigl & Josh Kelley!
Grey's Anatomy fans got a belated holiday surprise this week, when a rep for alum Katherine Heigl dropped some big news. In a People report, the rep confirmed that Heigl and husband Josh Kelley had welcomed baby boy Joshua Bishop Kelley Jr. into the world back in December. The newest addition joins siblings Naleigh and Adalaide, who were thrilled to learn of the bundle of joy last summer, according to the outlet.
"We were considering adoption again, fostering, or pregnancy if possible," Heigl wrote last year in a blog post on her site, Heavenly Days, speaking of her experiences thus far as a mother ahead of baby Joshua's birth. "Seeing as I have never been pregnant and as my OB/GYN reminded me last year, I'm of advanced maternal age, I wasn't sure pregnancy was even in the cards for us." As it turned out, she said, pregnancy ended up being "very much in the cards!"
According to a Dec. 10 post on her site, Heigl reportedly gave birth to the little one in Utah, presumably in what she dubbed her "mountain home." In the same post, Heigl enthused over her baby shower, thrown by family and friends, and spoke elegantly of the then-impending birth of her son.
"As my mother so eloquently quoted in her beautiful [shower] toast to Josh and I, 'Every child comes with the message that God is not yet discouraged of man,'" she wrote. "It is truly a magical time of year to be welcoming in new life and celebrating God's hope for us, his faith in us, and his unconditional love. It is how all us parents feel about our children and Josh and I are no exception!"
In an earlier post announcing her pregnancy last June (adorably titled "Oh Baby!"), Heigl discussed at length her first experience being pregnant, and how having adoptive daughters Naleigh, 8, and Adalaide, 4, had prepared her for the long wait.
"This is truly an amazingly blessed time, waiting for the child you've been dreaming of to make their appearance," she wrote. "Though I've never been a particularly patient person, my experience of waiting for Naleigh taught me a lot in that department. So I will wait and eagerly anticipate, hopefully with grace, gratitude and a good attitude (ummm pregnancy hormones are real people). Maybe this time the waiting won't be so hard because I'll have all of [my readers] to share the laughter, tears and joys of my experience with."
Now that baby boy Joshua is finally here, it's safe to assume he's already surrounded by plenty of excited family members, ecstatic siblings, and two parents ready to shower him with as much love as possible. Congratulations to the happy family!