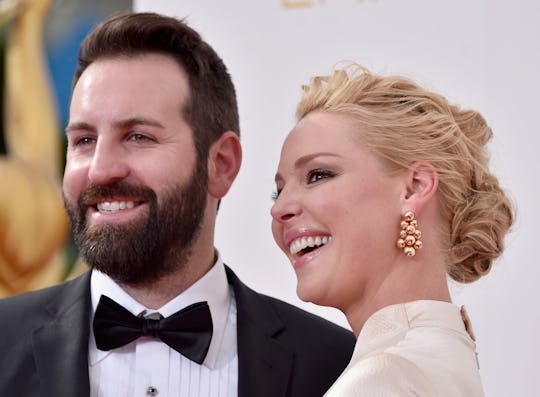 Frazer Harrison/Getty Images Entertainment/Getty Images
Katherine Heigl Wrote Josh Kelley A Cute HBD Post
Monday was Josh Kelley's birthday. Did everyone make sure to get him a present? It's cool if not, because it would probably be pretty weird if he got a bunch of gifts that weren't from friends or family members, or his wife, actress Katherine Heigl of Grey's Anatomy and 27 Dresses fame. He got a pretty cute gift from her in the form of a social media shoutout. Katherine Heigl's birthday message for Josh Kelley on Instagram was super sweet, and probably made a lot of people a little bit jealous at the same time.
For those who are somehow not aware of either half of the couple, Josh Kelley is an American singer-songwriter and actor, with hits such as "Amazing" and "Only You," and he's toured with the likes of Rod Stewart, Ryan Cabrera, and Lady Antebellum. Katherine Heigl is a Grey's Anatomy alum with a ton of other film and television credits to her name. The two met in 2005 when she appeared in his music video for "Only You," and got engaged about a year later. Since then, they have become parents to two girls and a boy, some with the help of adoption.
Recently, Heigl and Kelley welcomed a son to their family, Joshua Bishop Jr., and they've both shared snaps of the new baby on their social media accounts. The little family is clearly thrilled by the new addition, and Heigl is eager to show off Kelley's dad skills in her latest Instagram post.
Heigl wrote in the caption:
How @joshbkelley is finishing off his birthday, with sleepy snuggles from his namesake! Could not be more grateful for this extraordinary man and for this extraordinary day that he was born! Happy Birthday to the sexiest, funniest, smartest, most talented, charming man I have ever met! Oh and he's not too shabby in the Dad department either...is there ANYTHING the man can not do??!!!
Cue a bunch of emoji hearts at the end of the statement. And several in the comments on the post as well. But it was Josh who actually shared a photo of his sleepy father-son moment first, putting a picture on Instagram with the caption, "Mom caught us nappin on the job!!! #thejoshuas"
It was clearly a very happy birthday for the dad of three, who also shares daughters Adalaide, who is 4 and a half, and Naleigh, who is 8, with actress and mama Heigl. Here's to hoping there are plenty more birthday snuggles to come for him and his wife in the years ahead.