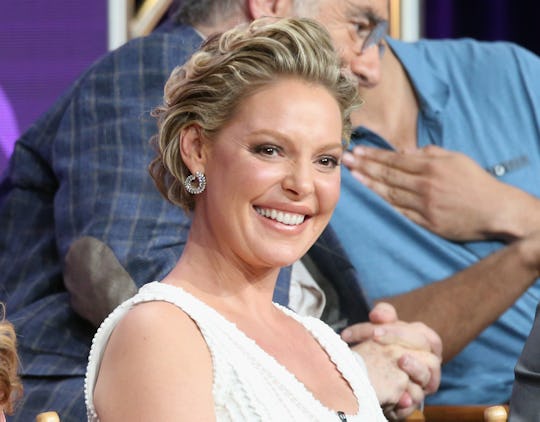 Frederick M. Brown/Getty Images Entertainment/Getty Images
Katherine Heigl's Sweet Instagram Of Baby Joshua
There's no doubt that Katherine Heigl is living her best life right now. She and husband Josh Kelley welcomed their third child on Dec. 20, 2016. The proud parents announced Joshua Bishop Kelly Jr.'s arrival on (where else?) Instagram with an adorable photo of mom and baby. Heigl and Kelly have not been shy about sharing sweet pictures of their new baby on social media, as well as on magazine covers, and one of Heigl's latest Instagram photos of baby Joshua snuggling his dad is so cute it might just heal your soul.
Heigl shared a photo of her son happily snoozing on his dad's shoulder a few days after announcing his arrival on Instagram last week — and Kelley was, unsurprisingly, all smiles as baby Joshua rested peacefully in his arms. Besides celebrating the fact that little baby Joshua was happy and healthy, the newly expanded family was celebrating another happy occasion: It just happened to be Kelley's birthday, too.
"Could not be more grateful for this extraordinary man and for this extraordinary day that he was born!" Heigl captioned her photo. "Happy Birthday to the sexiest, funniest, smartest, most talented, charming man I have ever met! Oh and he's not too shabby in the Dad department either...is there ANYTHING the man can not do??!!!" Heigl adorably accompanied the photo with a line of double-heart emojis.
Heigl and Kelley became engaged in 2006 after meeting on the set of Kelley's music video a year prior. The happy couple tied the knot just before Christmas on Dec. 23, 2007 in Park City, Utah. Heigl and Kelley are also the proud parents to two little girls, as well. They adopted their oldest daughter, Naleigh, from South Korea in 2009. (The couple chose to adopt from South Korea because it's the birthplace of Heigl's sister, Meg.) They decided to adopt once again in 2012, welcoming their middle daughter Adelaide from Louisiana.
Heigl spoke candidly to People about her decision to adopt, saying that pregnancy "didn't ever really speak to me. I got really invested in adoption. I didn't look back or even think about it." The actress revealed that once she turned 35, though, she started to wonder if carrying a child would be a part of her motherhood experience. And though she had been considering pregnancy to expand her family, Heigl admitted that she was surprised to find out she was pregnant with Joshua. "I'll be totally honest, my first reaction was 'Oh s—,'" Heigl said. "But now we have a new normal, and I have to give myself a break in order to get used to it."
Heigl is basking in the happiness her newborn son has brought her entire family. And even though little Joshua is only a month old, Heigl already knows she wants to continue growing her family. "I'd get pregnant again, and I still am very inspired by adoption." Heigl told People. "I also have been thinking a lot about fostering. It's all up in the air."
However Heigl and Kelley choose to grow their beautiful family, it's a safe bet that their fans are hopeful they'll continue posting adorable photos on Instagram so everyone can come along for the ride.