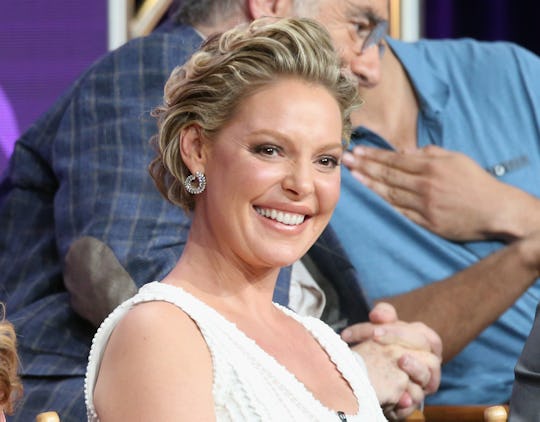 Frederick M. Brown/Getty Images Entertainment/Getty Images
Katherine Heigl's Post About Her Post-Baby Body Reminds Moms Of Their Strength
Growing a small human can take its toll on a person's body, and watching your body change in unexpected ways is not always a fun experience for expecting moms. In a recent blog post, though, Katherine Heigl shared her thoughts on her postpartum body, and her post was a beautiful reminder to moms everywhere to treat themselves kindly, no matter where they are in their journey.
Before giving birth to her son earlier this year, Heigl was already a mom to two adopted daughters. However, this was her first pregnancy, and with it came a few surprises, as Heigl outlined in a post on her blog, Those Heavenly Days.
"I gained almost 50 pounds during my pregnancy and I'm not gonna lie, I had moments of sheer panic that I'd never be able to lose it all," she wrote last week. "We've all heard about the gals who tone up and get right back into their skinny jeans weeks after their babies birth but this was not me, nor was I trying for it to be."
Instead, she explained, she took a different approach: she decided to treat her body with patience and love, because that's exactly the kind of approach she wants to model for her young daughters, rather than the unforgiving attitude she used to take.
"The years of deprivation, counting every single calorie, completely eliminating major food groups and setting unreasonable weight goals are over," she wrote. She continued:
None of those things ever really worked for me and only fostered an unhealthy, resentful relationship with my body, an attitude that I do not want to pass on to my daughters. There was something about my pregnancy and post pregnancy body that instilled a sense of body pride in me and a freedom from body shaming that has been such a persistent part of my life for so long.
And at the end of the day, that's exactly the kind of attitude Heigl does want to pass on to her children. "I'm so grateful for my body right now because I feel like it's doing what it needs to do," Heigl told People in January.
It's a good reminder to moms (and hey, all humans) everywhere that, in the end, bodies are simply tools that let us live our lives, raise our kids, and go about our day-to-day. They change and adapt to their surroundings, and they become stronger depending on how we use them And that's more than enough to be thankful for.