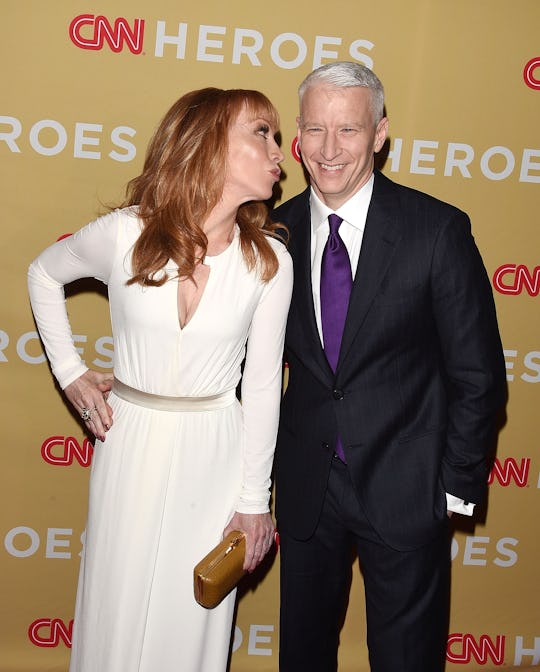 Kathy Griffin & Anderson Cooper Hosting New Year's Eve On CNN Was Awkward But So Endearing
Bickering like a seasoned married couple, Kathy Griffin and Anderson Cooper hosted CNN's New Year's Eve Live cracking irreverent jokes throughout the night like, "This isn't happening on Seacrest." Indeed, the raunchy rapport between Kathy Griffin and Anderson Cooper hosting New Year's Eve on CNN was awkward but endearing, making it the perf watch for the edgier NYE show viewers.
To open the show, viewers got a glimpse of Griffin, 55, in her PJs (leopard print, natch) in bed with Cooper (who was not as dressed down). Then Kathy made a not-so-cool comment musing about Oprah's sexual orientation, quipping that she and Gayle King were probably at home "cuddling."
But of course, Kathy was just getting started on her off-color remarks. She then accused CNN journalist Poppy Harlow of using a stripper's name. For the record, the pregnant journalist's full name is Katharine Julia "Poppy" Harlow, and she recently fainted during an on-air broadcast. For the CNN broadcast, Harlow was doing just fine, getting fans in Times Square to suggest baby names by bribing them with pizza. "Are you crowning yet, Poppy?" Griffin wanted to know.
But the thrill of this NYE show was in the comic tension between wild Griffin and laced-up Cooper (who didn't know what "pansexual" meant). And as for the inappropriate comments, I mean...this is Kathy Griffin, people. Inappropriate is practically her middle name. Thankfully, the Silver Fox played yin to her yang, throwing back what appeared to be Diet Cokes, knowing when to poke his co-host, and when to reign her in. (If there's any reigning in of Kathy to be done, it's by her long-time pal, Anderson.) During their riffing, the duo shared funny text message exchanges that reveal the depth of their friendship. From Anderson to Kathy:
I just woke up on the red eye and my breath tastes like stinky cheese.
Early in the show, Kathy gave herself some props for her ALS ice bucket challenge video, which she performed in the nude (except for a pair of red heels). The vid, which included a cameo by A.J. Mclean from the Backstreet Boys and Aubrey Plaza, was one of the most viral videos of 2015.
Kathy also bragged about a text message from Cher, whom Griffin texted for some inspiration on her way to her sold out show "Like A Boss" at Carnegie Hall. According to KG, Cher texted back, saying, "I think of you as a talented b*tch." That's pretty brag-worthy.
Another of KG's boasts: Lady Gaga gifted her a basket of organic eggs at the Grammys. Yeah, I don't know what that means either, but to be honest, I'd take whatever Gaga handed me.
Finally, Kathy gave some props to Cooper for a memorable 2015 moment that had him at the center of attention. Remember when Madonna invited him on stage for a dance and spanking, during her song "Unapologetic B*tch" at Barclays Center in Brooklyn last September?
OMG, I dare you to watch this without getting second-hand embarrassment for the Silver Fox. But, you know what? He pulls it off, even if his cohost snickered at the memory.
But by far, the most heated topic of convo between these two was none other than 2015's most popular gal, Taylor Swift. Kathy maintains that, as a comedian, she likes to make fun of singers every now and again, and at the top of her list is T. Swift. Demi Lovato and Lana Del Rey also caught some of Griffin's shade this year, and enraged fans were not having it, taking tonight's broadcast to hate-tweet Kathy for her snarky remarks about Lovato and Del Rey... But I digress. Back to Taylor. The dialog between Anderson and Kathy went something like this:
Anderson: "She's hard-working."
Kathy: "But she has nothing to shake off. Like you. That's why you like her."
"I think she's a secret feminist." Kathy said. "I'm going to get her to admit it."
"What's all this about squads?" the comedian wanted to know, referencing an incident when Taylor and her friends passed by her at the Grammys. "I was afraid Taylor's squad was going to jump me," she joked.
Cooper squashed the convo by keeping it light, adding, "I like the cat eyeliner."
There was another make-up moment when Kathy spray-tanned the notoriously pale Anderson in the face. So that happened.
But it seems there was no love lost between these two, as they exchanged a midnight kiss. And for all of Kathy's inappropriate jokes and shade-throwing, she ended the broadcast with her New Year's resolution that sent a powerful, sincere message.
I'm not going to be afraid. Even though I work in a man's field, I'm only going to stand for being treated better.
When Anderson added that he thought everyone should insist on being treated better, Kathy was quick to point out, "It's a chick thing," adding, "Ladies, keep at it!"
Well, I'd say that's a hell of a way to start 2016.
Image: Andrew H. Walker/Getty Images