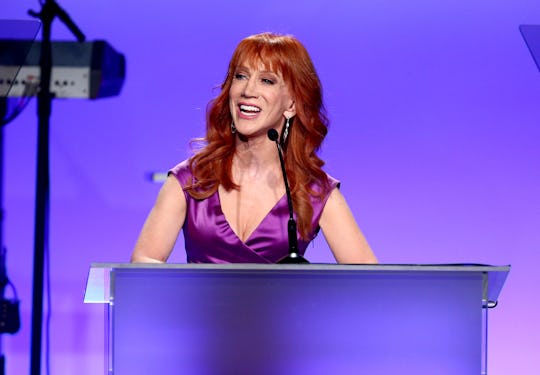 Rich Fury/Getty Images Entertainment/Getty Images
Kathy Griffin Fired Over Controversial Trump Photo
On Wednesday, less than a day after she posted a picture in which she held a prop made out to be President Donald Trump's bloody head, comedian Kathy Griffin was fired from CNN. The picture drew widespread backlash from both the president and the public. Despite the comedian's quick apology on Tuesday night, CNN announced on Wednesday that it would be terminating Griffin's New Years Eve hosting gig.
In a video posted to Twitter on Tuesday night, Griffin said:
I sincerely apologize. I am just now seeing the reaction of these images. I'm a comic — I cross the line, I move the line, then I cross it. I went way too far. The image was too disturbing. I understand how it offends people. It wasn't funny, I get it. I've made a lot of mistakes in my career. ... Taking down the image, going to ask the photographer to take down the image, and I beg for your forgiveness. I went too far, I made a mistake, and I was wrong.
The president himself took note of the image and took to social media to criticize Griffin. "Kathy Griffin should be ashamed of herself," he wrote on Wednesday morning. "My children, especially my 11 year old son, Barron, are having a hard time with this. Sick!"
Griffin's photograph drew criticism from both Republicans and Democrats, and CNN anchor Anderson Cooper — who co-hosted the network's New Years Eve program with Griffin — called the picture "clearly disgusting and completely inappropriate" on Twitter.
Romper reached out to both CNN and Griffin's representatives, but did not hear back immediately.
Another company, Squatty Potty, also reacted swiftly to Griffin's photo, suspending a new ad campaign starring the comedian. "We were shocked and disappointed to learn about the image Ms. Griffin shared today, it was deeply inappropriate and runs contrary to the core values our company stands for," Squatty Patty chief executive officer Bobby Edwards said in a statement on Wednesday morning.
The photographer who worked with Griffin on the Trump photo, Tyler Shields, spoke to Entertainment Weekly about the picture before Griffin's apology. "I'd say Trump is probably the most polarizing president that we've ever had," he said. He continued:
I can't speak for [Griffin], obviously. For me, presidents are symbols. They're symbols. They reflect some people's ideals and they reflect the opposite of some other people's ideals. Right now, this guy is the opposite of a lot of people's ideals.
Both Griffin and Shields predicted they'd receive some backlash, but they may have underestimated the extent of it. The picture has now been removed from both Shields' website and Griffin's social media.