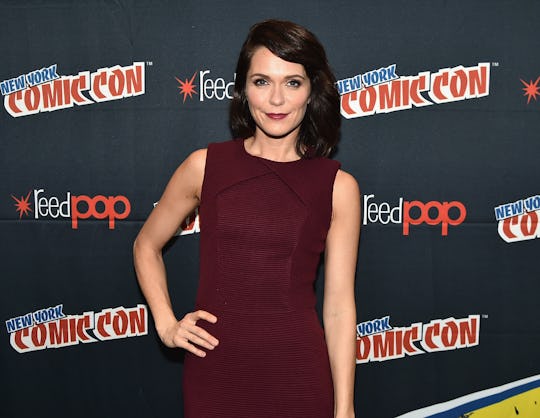 Theo Wargo/Getty Images Entertainment/Getty Images
Why Katie Aselton Puts Herself Before Her Kids
For years — heck, for centuries — motherhood has been synonymous with selflessness. Society has been ingrained with a somewhat patriarchal idea that, when a woman becomes a mother, she is to devote all her time and energy to raising a child. Over the past decade, however, the mindset has slowly started to shift. These days, there is a movement for moms to be less selfless and more selfish. And one person leading the charge is Legion's Katie Aselton, who says her kids aren't the center of her universe.
Aselton wears so many hats, it's hard to list them all. In addition to being a hands-on mother to two girls, she is a badass activist, a loving wife to actor Mark Duplass, and a talented card-carrying member of Hollywood. But even within the entertainment industry, Aselton dons several caps. Her résumé includes an impressive list of acting, directing, and producing credits which have taken years to cultivate. It's something she's rightfully proud of and wants to show to her daughters, even if it means that she doesn't always put them first.
It's very important to prioritize yourself because then you will be the best version of yourself for the people that you love.
"I think it's really important for our kids to know that they are not the center of our universe," Aselton says in an interview with Romper. "I feel that really messes with kids' heads. It's really important for me to show [my daughters] that I have a passion that I care about and I work really hard at it."
That's not to say Aselton doesn't put her children first — she just doesn't put them first all the time. In some cases, she even puts herself before her children, which is totally OK. Because, as Aselton says, "it's very important to prioritize yourself because then you will be the best version of yourself for the people that you love."
It's this belief that inspired Aselton to partner with Plum Organics for the brand's Do Your Part(ner) campaign, which encourages and empowers parents to make time for themselves and their relationships.
Though the campaign puts some extra emphasis on the sex component, Aselton says it's about more than making time between the sheets. After all, if a woman or man doesn't want to have sex, they shouldn't — end of story. Rather, Aselton thinks the campaign pushes for and encourages intimacy, be it physical or otherwise.
"I think that you can maintain a strong intimacy without being sexual," she says, adding that no one should ever feel obligated to have sex with their partner if they don't want to. "But intimacy and a sexual relationship are intertwined, and being able to just talk about it with your partner is a big deal. It can honestly bring you guys so much closer."
And she's not wrong. In a piece for Psychology Today, marriage therapist Dr. Lori Gordon wrote about a study she did that examined the connection between intimacy and happiness in a relationship. The study examined couples who went through Gordon's course, Practical Application of Intimate Relationship Skills (PAIRS). The results found that learning and practicing reduced anger and anxiety in relationships. And one can assume that when you're happy in your marriage, it flows through to other aspects of your life.
Life is a balance — work is part of that and family is part of that, and I think that's an important example to set for them
But, as with her children, there are times when Aselton puts her relationship on the back burner to make sure she is taking care of herself. Because, and I'm sure many moms would agree, putting yourself last can take a toll after a while.
"I think that to be the best mom or to be the best partner, you need to be the best version of yourself," Aselton says. "That has to come first before you can be, like, this award-winning mom that everyone wants to be." For Aselton, the me-time comes from her morning pilates class or a mani-pedi with her friends. Of course, as any moms knows, there are some days where time is limited. In fact, according to the Daily Mail, moms only get about 17 minutes of me-time every day. That's when they have to resort to smaller indulgences like taking deep breaths in a room by themselves or a quick stop at Starbucks for their favorite drink. But hey, any me-time is better than none.
Luckily, it seems like more moms are starting to put themselves first. Even Aselton herself has noticed a shift, albeit a small one, in her group of friends.
"I don't know if everyone is just finding more of an ease to it, but I feel that people are relaxing a little bit more," Aselton says.
While some may want to shame a mother who puts herself first, think of it this way: in putting her passions first, Aselton is teaching her daughters the significance of self-care and the importance of finding your own identity.
"I love them and they mean the world to me," Aselton says of her daughters. "But life is a balance — work is part of that and family is part of that, and I think that's an important example to set for them."
At the end of the day, it's not about the quantity of time you spend with a child but the quality. And if carving out an hour for pilates every day leads to better quality time with your kids, who are we to argue?