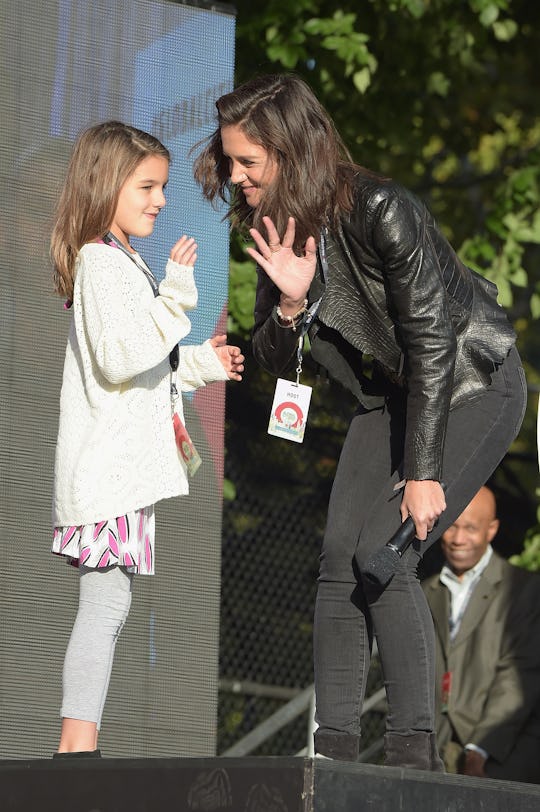 Theo Wargo/Getty Images Entertainment/Getty Images
Katie Holmes' Instagram Of Suri Will Melt Your Heart
Actress Katie Holmes is typically very private about her family life, especially about her daughter, Suri Cruise. But yesterday, Holmes broke from the norm and posted a rare photo of Suri on Instagram. Just one look at Katie Holmes' Instagram of Suri will melt your heart.
Holmes posted a series of black-and-white photos of a surprise birthday party for her mother Kathleen Stothers-Holmes. In one of the photos, Holmes cuddles in a chair with 10-year-old Suri, who appears to be exhausted after a night of fun at the party. Other pictures of the party show Suri dancing with another young girl, and Holmes and Suri hiding before surprising Holmes' mother.
Holmes expressed gratitude for these fun family moments, captioning the photo with #blessed.
Cruise wore a pretty frilled dress to her grandmother's birthday bash. The 10-year-old has often been cited as one of the most fashionable celebrity kids. (Vogue has even previously highlighted Suri's best looks throughout the years.) But Holmes told Us Weekly at New York Fashion Week that Suri doesn't take after her style. "She has her own [sense of style]," Holmes said.
Holmes and Suri have often been called "twins" because of how much they resemble each other — and it's only becoming more noticeable as Suri grows up.
Following a very public divorce from actor Tom Cruise in 2012, Holmes has tried to shield Suri from the public eye. Although Holmes has been private about her life with Suri, she has made public the pride she feels in being a parent. "Motherhood is the greatest gift," Holmes said in an interview with Glamour, back in 2014. "When I became a mother, my life completely changed."
Holmes added:
But the biggest change? I think you don't know—I didn't know how much love I had in me. It's overwhelming. Every day I discover more about this spectacular human being I get to be the mother of."
Holmes — who has affectionately referred to Suri as "my little one" — also spoke of her earliest experiences with motherhood with Du Jour magazine. "I was a very nervous mother — like, sleeping next to her crib — and I was in that mode for a long time."
Recently, Holmes and Suri were spotted taking in a Broadway show, Finding Neverland, with Kathleen and Holmes' two nieces. The trip was dubbed a "girls weekend" by Holmes on social media, and ended with dessert at New York City's famous Serendipity.
Here's hoping Holmes will share more of these precious moments of her and Suri's bond in the future.