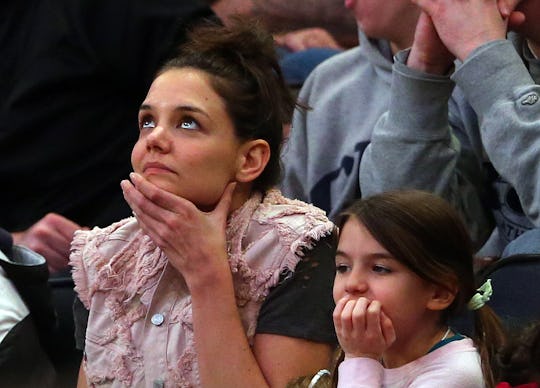 Elsa/Getty Images Sport/Getty Images
Katie Holmes Says She & Suri Watch The Debates Together Because Of Hillary Clinton
In her post-Tom Cruise world, Katie Holmes has been flourishing. The star, who shot to fame with everyone's favorite '90s teen drama Dawson's Creek landed in some real-life drama of her own when she married Tom Cruise in 2006. Together they had one child, a daughter Suri, who was born a few months before they were married. When the couple divorced in 2012, Suri stayed mostly with Holmes. What are they up to these days? According to Holmes, she and Suri watch the debates together — and there's a powerful reason why.
Suri Cruise is 10 years old now and splits her time between hanging with Holmes and her father, Tom Cruise. Both actors have been pretty busy this year: Holmes is wrapping up filming another miniseries about The Kennedys, taking on the role Jacqueline Kennedy Onassis for the second time, and Cruise is back to hitting the Mission Impossible and Jack Reacher franchises — not to mention a Top Gun sequel that's in the works.
Suri hasn't made her film debut yet, but she's definitely famous in her own right: if only for the Tumblr blog named in her honor, Suri's Burn Book, and her occasional appearances alongside her parents in magazines where she is always remarkably well-dressed. Usually coming from or heading to a dance class, Suri's wardrobe has always been a fascination practically since the day she was born.
In reality, Suri's blossoming star power is just one side of her fairly pretty normal childhood: a life that includes watching television with her mom. In an interview with PEOPLE at Quaker's Oatober launch event in New York City, Holmes told interviewers that she and Suri have been watching the presidential debates — mainly because Hillary Clinton is such an inspiration:
It's wonderful to have my 10-year-old see a woman up there doing well and being very clear and thoughtful in her responses and in her passion for what she wants to do for our country. That's so powerful for a 10-year-old girl to see.
Holmes went on to say that she's definitely #WithHer, and that in addition to being an inspiration for all of us, Clinton's definitely the most prepared for the presidency:
Obviously, it means so much as a woman to have the first woman president, but more importantly, she's incredibly qualified for the job. I believe in her, I feel her — and she has always worked so hard for children. I believe that our country will be taken care of with her as president.
No word on whether Holmes has taken any inspiration or tips from the former first lady as she steps into another famous first lady's shoes for her role in The Kennedys After Camelot. She's reprising the role of John F. Kennedy's wife, Jackie, who she played in the original miniseries, The Kennedys, which aired in 2011.