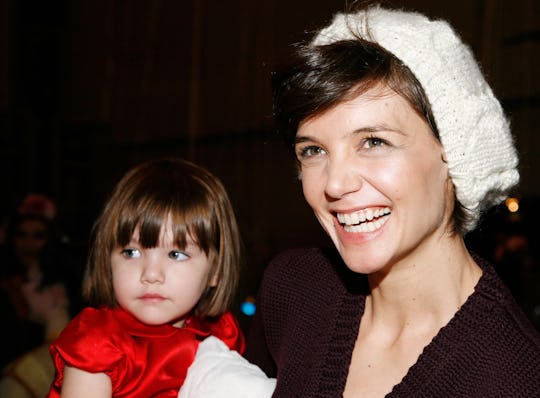 Amy Sussman/Getty Images Entertainment/Getty Images
Katie Holmes Sent Suri A Sweet Message For Her 10th Birthday
In a sweet mom moment, actress Katie Holmes sent Suri Cruise a birthday message on social media and reminded the world that it's been 10 years — yes, 10!! — since she and then-husband Tom Cruise gave birth to their daughter. "So grateful for my favorite day of the year!!!" Holmes posted on Instagram Monday alongside an image of black and red brushstrokes repeating the number "10" over and over. "Happy birthday to my sweet angel Suri."
People magazine reported that Holmes and her daughter celebrated the special day a bit early, at a low-key birthday lunch on Sunday with Holmes' parents and two of Suri Cruise's girlfriends. According to that report, the little crew celebrated Suri Cruise's 10th with hamburgers and fresh-baked cookies at iconic Central Park restaurant Tavern on the Green before heading into the Park itself. Sounds like a pretty perfect birthday celebration, though a bit of a departure from how the Ray Donovan star helped her little girl celebrate her ninth birthday last year. According to Us Weekly, Holmes treated Cruise to a cupcake-filled birthday — we're talking dozens and dozens of the tiny treats — with her 20 closest friends at New York's Gilded Lily last year.
Suri Cruise is the only child from the six-year marriage of Holmes to megastar actor Tom Cruise. Cruise and Holmes split in 2012 and the pair went through a particularly nasty and high-profile divorce; the 37-year-old actress told People magazine that the experience transformed her:
I don't have any fear now, I don't have a lot of rules for myself, and I don't take myself that seriously. I don't want that moment in my life to define me, to be who I am. I don't want that to be what I'm known as. I was an actor before, an actor during and an actor now.
According to Hollywood Life, the actress has been parenting solo a lot since the split; the outlet reported that Holmes celebrated her only child's big day (and Holmes' 10th as a mom! Congrats on that!) with a "mommy and me" day around the city — and that dad Cruise stayed in London for his youngest child's birthday.
Still, with or without ex-husband Cruise to share the experience, Holmes seems to find real joy in motherhood. Speaking to People in 2014, Holmes said that her only daughter "means everything" to her. Holmes added that "I'm learning every day, and I have been since the minute I became a mom.' Of course, it isn't always easy, Holmes said:
My patience has grown, but between 4 and 6 p.m... I mean, wow. Between tickle fights and glitter art, I try to throw in some manners along the way.
What tween parent can't relate to that?
First of all, take a moment to digest that it's been 1o years since Suri Cruise was born. Since I still think of her as the cute toddler in little baby high heels, this factoid was particularly tough to handle. But while the day was undoubtedly big for the little girl entering the world of tween-dom, it's a pretty big day for Holmes. Ten years ago, Katie Holmes entered the world of motherhood — with all its joy, frustration, and unpredictability — and she seems to have found her stride. That's something worth celebrating, too.