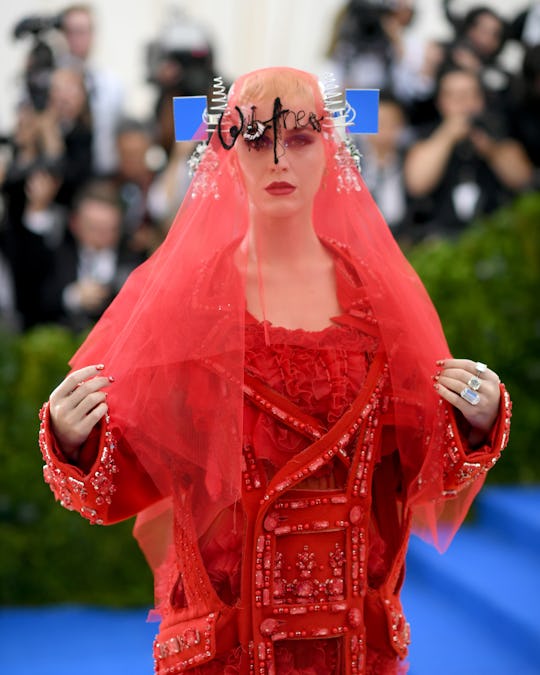 Dimitrios Kambouris/Getty Images Entertainment/Getty Images
The Best Katy Perry Met Gala Memes & Tweets
To say that Katy Perry has been switching up her look lately is the ultimate understatement. The days of brunette side bangs and lilac locks are long gone, but at the Met Gala on Monday night, she didn't even try to show off her edgy, platinum pixie cut. All of the Katy Perry Met Gala memes and tweets circulating assure that her red veil and tulle will be talked about for Met Galas to come, but whether the look will be admired for its avant-garde take on the theme or scorned forever for its overt oddness really depends on your own gala expectations.
Let's break this look down for a second, from toe to head (we're building to a climax, here). Perry wore red Tabi boots; a red tulle and silk chiffon dress, a wool coat (GIRL aren't you hot in that?); a draping red veil embroidered with an eye and spelling out the word "witness" in black thread; and a perplexing headpiece featuring silver, metal springs, small rectangular mirrors, and dangling, chandelier ornaments. Designed by John Galliano, the piece by Maison Margiela Artisanal proved that Perry wasn't afraid to meet the Comme des Garçons theme head-on; The label, by Tokyo designer Rei Kawakubo, is synonymous with strangeness, so a run-of-the-mill ballgown just wouldn't do.
Here's what Twitter had to say about Perry's choice:
I'll say it: I'm here for this. I'm here for the rise of purposefully unflattering fashion, celebrating garments as artworks themselves rather than vehicles to solely show off the female form. At a mainstream event like the Grammys or the Oscars, this definitely would not fly, but at a function dedicated to embracing wild high fashion, why not cover yourself in red tulle and jewels just call it a day? Let it be known: I'm not alone in appreciating Perry's approach! See?
Superfans are psyched about the look for a reason besides its edginess. Katy-Cats are speculating that, according to her veil's secret message, Witness is the name of Perry's new album. Seeing as Prism came out in 2013, it's high time for Perry to release "KP4," aka her fourth album. Perry's slowly been releasing singles in preparation; "Chained To The Rhythm" has gone platinum, and "Bon Apetit," featuring Migos, was just released last Friday.
Given Perry's status as a Met Gala co-host, she absolutely needed to bring her A-game to the red carpet, tulle and all. But if you're not a huge fan of the Beetlejuice-inspired realness, rest assured that this was only outfit number one of the night for Perry. For her private, dinnertime Met Gala performance, Perry's expected to change into — what else — a piece by Comme des Garçons.