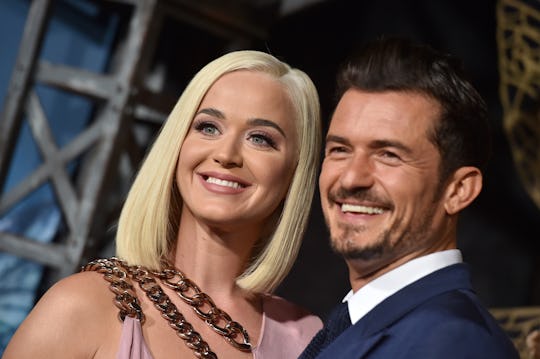 Axelle/Bauer-Griffin/FilmMagic/Getty Images
Katy Perry Reveals She's Expecting Baby #1 With Orlando Bloom In The Most Creative Way
While releasing the music video for her romantic new song "Never Worn White," Katy Perry revealed she's pregnant with her first child with her fiancé Orlando Bloom. In the final shot of the video, the 35-year-old singer and mom-to-be turned to the side and showed off her bump in a stunning sheer white gown. Goosebumps!
Shortly after dropping the music video on Wednesday night, the American Idol judge further confirmed the exciting news on Instagram. "Let's just say it's gonna be a jam packed summer...," she wrote. And over on Twitter, Perry told her followers, "omg so glad I don't have to suck it in anymore... or carry around a big purse lol."
Following all of that happiness, Perry also shared an Instagram Live video and literally screamed "ahhhh" with excitement when she put the camera on her bump. While chatting with her followers, she said news of her pregnancy was "probably the longest secret" she has "ever had to keep."
Perry and Bloom, who shares a 9-year-old son named Flynn with his ex-wife Miranda Kerr, have been engaged since Valentine's Day 2019. And in "Never Worn White," Perry sings about how she's ready to say "I do."
"Cause I've never worn white/But I wanna get it right/Yeah, I really wanna try with you," Perry sings in the chorus. "No, I've never worn white/But I'm standin' here tonight/Cause I really wanna say 'I do.'"
While the "Fireworks" singer didn't reveal whether she and Bloom are expecting a boy or girl, Perry did share with her fans that she's due soon — like this summer soon. "There's a lot that will be happing this summer, not only will I be giving birth, literally, but also figuratively to something you guys have been waiting for," she told her Instagram followers. "We're excited and happy."
Now that the cat's out of the bag, hopefully that means we'll be seeing many more stunning bumps shots and hearing more pregnancy updates from Perry as her summer due date nears. Congrats!