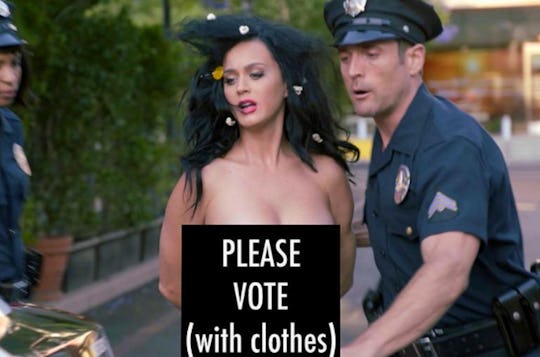 Katy Perry Urges Fans To Vote In A New Funny Or Die Video, & It May Just Work
An establishing shot of a celebrity's California home, followed by a quick shot of a calendar with the date Nov. 8 circled kicks off Katy Perry's comedic video urging viewers to vote this election season. The video which came out the last week of September is just one way Hollywood has taken a stand during this election, and Perry is just one of many celebrities who is hoping to encourage fans to practice their right to vote this election season.
In the opening of the sketch, the singer certainly knows how to "rise" out of bed. After violently smacking her alarm clock off her nightstand, she starts her morning off with a little monologue to her fans. "Hi, I'm Katy Perry! You know Nov. 8 is Election Day," she practically serenades the camera in her chipper, sing-song voice with an almost too happy grin. Perry continues, informing us of some "great news" she has for viewers, namely that "this year you can look like sh*t when you vote." After uttering these words, she turns to face her bedroom mirror and whispers "perfect" to her reflection.
Perry then heads to the polls, where she approves people's voting attire, "in the name of democracy any just out of bed look is A-OK" she insists with a thumbs up and a smile.
After going over acceptable looks to vote, like a child's onesie, Katy then rips off her pajamas, claiming that she herself happens to sleep in the nude.
Immediately, two police officers come up from behind her to arrest her, putting an end to her well-intentioned streaking. She is then thrown into a cop car joining a naked Joel McHale in the backseat. "You too?" he asks with a smirk, she scoffs back at him.
Her last words to the camera are "scratch that, you gotta wear clothes, my bad, see you at the polls Nov. 8!"
The celebrities involvement in the Rock the Vote movement is important, since millennial voters are potentially the most important voters there are this election. So, promoting and participating in a Rock the Vote campaign video is important in reaching an audience that needs as much encouragement as possible come Nov. 8.
Chances are the video won't completely affect the millennial vote, but any little bit helps this year. If anything, maybe it will encourage millennials to take part in more election-based activities. Whether that is watching a debate, encouraging others to vote, or just exercising your own right to vote — Perry is doing good work promoting such an important message.