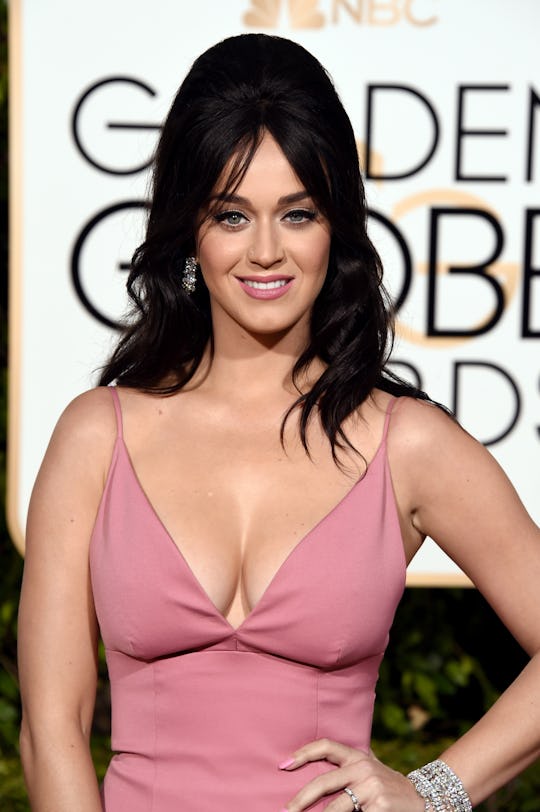 Katy Perry Wears A "Bump It" To The 2016 Golden Globes & Doesn't Care Who Knows It — PHOTOS
You're not dreaming. It's true. On the 2016 Golden Globes red carpet, Katy Perry wore a "Bump It." Not only did she wear something only Snooki has been seen in the last decade, but she's awesomely loud and proud about it. The singer told Jennifer Lawrence — of course J. Law somehow involved in all of this — that it's the "As Seen on TV Bump It."
Stars: They're just like us! They wear $5 hair accessories and can't wait to brag to their friends that they spent so little but look so fly. And it's no surprise that it's getting a lot of attention. Amid the thousands of dollars worth of fabric and the hundreds of thousands worth of jewelry, it's fun to hear that hey, there are some beauty hacks that are timeless treasures that even celebrities, who have every bit of access to the latest and greatest in the fashion and beauty game, know what's up when it comes to getting that volume.
Hey, it was good enough from your prom, it was good enough for the cast of the Jersey Shore, and now we have photographic and video proof that it's good enough for Perry, whose net worth is reportedly $260 million.
For those doing the math at home, yeah, be jealous: Perry can afford millions of Bump Its. She could make a mansion out of Bump Its and she and Lawrence could live inside it, making topical and nostalgic jokes because, yes, they can do it all.
Here's the Bump It Doing all its bumpiness.
From the three-quarters profile:
From the behind:
From the side:
Another side view:
And head on:
And for laughs, you have to re-watch this:
FLAT HAIR IS SO LAST YEAR!
Image: Jason Merritt/Getty Images