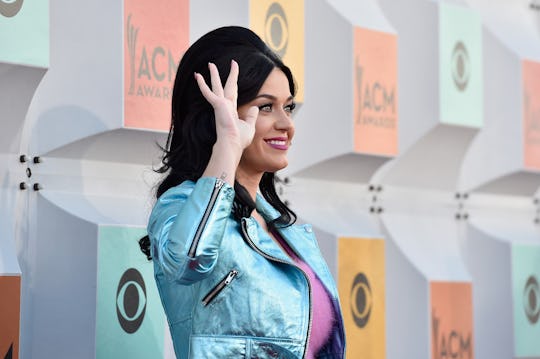 David Becker/Getty Images Entertainment/Getty Images
Katy Perry's ACM Awards Outfit Was Country Pop Perfection
Even though the American Country Music Awards show is supposed to be about celebrating the latest and greatest in country music, Katy Pretty reminded us all that Sunday night's award show isn't just about huntin', fishin' and lovin' every day. (Though that's real nice, too.) Katy Perry's ACM Awards outfit officially broke Twitter, left us screaming "YAASSSS QUEEN" at our respective televisions, and reminded us all that the ACMs are for everyone.
It didn't even take Perry walking on stage with the queen of country, Dolly Parton, to stun the ACM-watching world with her unbelievable outfit. Wearing what can only be described as the most metallic, out-of-this-world blue jacket, matching high-waisted skirt with a pink halter, and perfectly coordinated cow-skinned belt, Perry seemed to pay homage to Parton by mimicking her looks of yore. Who pulled it off better? Well, that's for you all to decide, as there is no way I am going to pick between the Smoky Mountain Songbird and our collective "Teenage Dream" heartthrob.
One thing is for certain, Twitter had some feelings about Katy's sensational country-inspired outfit, and were quick to let the world know that when it comes to fame, fashion and phenomenal singing, Katy Parry wins all the things.
Here's a look at Perry's full outfit:
Here are just a few of the reactions Twitter graced us with: