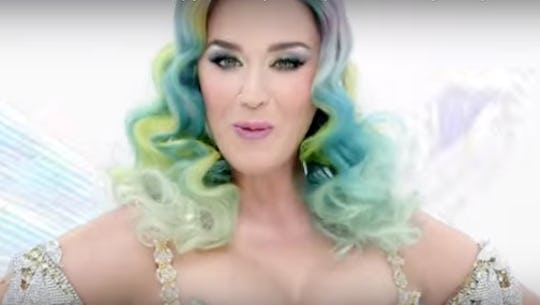 H&M/Youtube
Katy Perry's New Holiday Song Is Catchy AF, As All Good Christmas Tunes Should Be
It's getting to be that time of year again — when perfectly sane people turn into crazy shopping-zombies and Christmas music seems to completely take over the airwaves. And now, the first big holiday release is here: Katy Perry's Christmas song, "Every Day Is A Holiday" was just released Sunday, when it ran during an H&M ad — and damn is it catchy. Just like the store's holiday campaign, #HappyAndMerry, the song and video are a mishmash of holiday tropes, all covered with a generous dusting of glitter. (Because, why not?) In the video, ornaments, giant tin soldiers, elves, bears, fairies, hot dudes in santa hats, and Katy Perry all dance maniacally together in front of a white abyss. And it somehow hovers between the cheery and the nightmarish, with Katy Perry in the middle of it all. Sometimes she's a green-haired, wish-granting fairy, sometimes a bedazzled soldier.
But whether or not you're a fan of all the holiday hoopla (or even Perry's music), it's pretty hard to deny it either way. This song just gets in your head and stays there. But, all that said, the song isn't actually bad. Honestly, it's stuck in my head right now and most likely will be till next February... but I think I'm cool with it? If you feel the sudden urge to go shopping at H&M you'll know why.
Messages from the Twitterverse show I'm not the only one who's digging it, either.
And at least one excited fan was eagerly awaiting this song's release days ago:
Image: H&M/Youtube