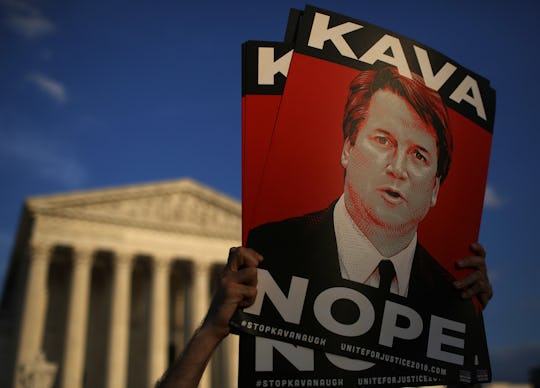 Win McNamee/Getty Images News/Getty Images
Kavanaugh Was Confirmed To The Supreme Court, & Moms Everywhere Are Speaking Out
After weeks of initial hearings, credible testimony from an alleged sexual assault victim, an FBI investigation, and a continued call for both the Senate and the president to reconsider the nomination of Brett Kavanaugh to the U.S. Supreme Court, it all ended on Saturday, Oct. 6 with a final vote. The decision went to the Senate floor just before 4 p.m., according to CNN, resulting in a 50-48 vote along party lines. As it turns out, Kavanaugh was confirmed to the Supreme Court — and moms are reacting with horror and outrage.
Their disgust stems from allegations of sexual assault by several women from Kavanaugh's past — as well as how these allegations have been handled. Most notably, it was Dr. Christine Blasey Ford's testimony that has convinced so many people this man has no business serving a life term on the highest court in the nation. During an interview with The Washington Post, Blasey Ford revealed how Kavanaugh and another male allegedly forced her into a bedroom during a house party in the early 1980s. There, Kavanaugh allegedly held his hand over the mouth of a terrified Blasey Ford, groped her over her clothing while rubbing his body against hers, and attempted to remove her clothes, according to Time. "I thought he might inadvertently kill me," Blasey Ford said. "He was trying to attack me and remove my clothing."
Blasey Ford's testimony before the Senate on Sept. 27 was perhaps even more powerful. As CBS News reported, she testified with "100 percent" certainty that Kavanaugh was the person who assaulted her in high school. "Indelible in the hippocampus is the laughter," she said. "The uproarious laughter between the two, and their having fun at my expense." Through it all, however, Kavanaugh has repeatedly denied everything. And President Donald Trump has openly mocked Blasey Ford, according to NBC News.
In response to news of Kavanaugh's confirmation despite these allegations, one Twitter user wrote what's likely on a lot of parents' minds right now. "I am afraid for our future. For my children's future. Not just because of Kavanaugh, but because of the potential men (or women) like HIM in which go among us," they tweeted. "Our judicial system is not giving justice, but denying justice to these woman. Invalidating their pain. I am deeply sad."
Another Twitter user tweeted, "I have never feared for my children's future more than I do now. I am deeply concerned and incredibly dismayed by the confirmation of Kavanaugh."
Another person chimed in with, "If Kavanaugh is the best we have to offer, I feel sorry for us. I'm horrified, terrified and outraged for my children."
Yet another person tweeted, "I have two boys. 5 and 7. My heart is heavy, I wake up worried every day. There are tears I hold back for every woman who is currently struggling as they are about to say yes to #Kavanaugh ........ I'm fearful for all of our children."
Another Twitter user wrote, "My mom & I watched the Kavanaugh confirmation together. While watching, my mom grabbed my hand with tears rolling down her face & said: 'When your children ask you about this day, you will be proud to tell them you and lots of women stood with all survivors.' #VOTE."
Illinois Senator Tammy Duckworth also shared her thoughts about how the vote went down on Saturday, tweeting, "Toughest day at my job so far. Scared and sad for my nation right now. Determined to fight harder now than ever before to live my oath to defend our constitution."
Like these moms, my main emotions right now are that of utter disgust and fear for my kids' future. That so many senators completely disregarded the sexual assault allegations — either by not even being willing to entertain the possibility, or by not thinking they mattered even if they were true — is horrifying. And the message it sends is loud and clear: Victims don't matter. Instead of allowing time for a full and fair investigation, what's more important, apparently, is confirming a Supreme Court judge who will make decisions that align with their political agendas — and one who has a clear bias when it comes to controlling women's bodies.
Just remember these feelings, parents, when mid-terms roll around next month. Remember them well, and vote those senators out.