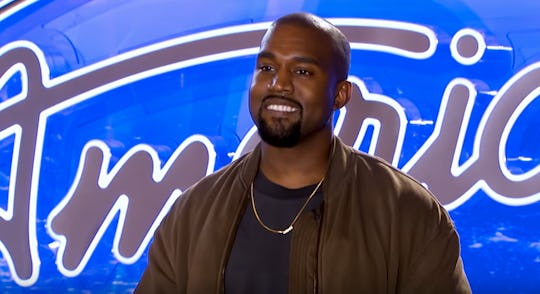 Kayne West Auditions For 'American Idol' While A Pregnant Kim Nervously Awaits The Judges' Decision — VIDEO
Kanye West has been on quite a tear as of late. Not only is he diving deeper and deeper into the fashion world, but he dropped a single on New Year's Eve for the second year in a row. And he is also making an appearance on the small screen. Kanye staged an American Idol audition in October, and a video of the audition was finally released Tuesday. Kim Kardashian was even featured in the audition, nervously waiting to hear if her husband scored a golden ticket. Idol begins its final season on Jan. 6.
Though people expected it, Kanye had social media abuzz when he released "Facts" on New Year's Eve. He didn't leave too much time for the momentum to die down though. West filmed an "audition" for American Idol in October, but he didn't release a video. And, two months prior, Kardashian had Instagrammed footage from the show's control room.
So, for the last few months, people have been well aware the West was going to appear on the final season of Idol, but they just didn't know how or why. But Idol finally released the video Tuesday, and West, posing as an inexperienced producer who wants to be a rapper, was a pretty great sport about the whole thing.
"My name is Kanye, and I'm from the south side of Chicago," the video starts out. West then goes on to explain to Idol judges Jennifer Lopez, Keith Urban, and Harry Connick that he's a producer, but that he once rapped. Sadly, West joked, "no one's ever believed" in his rapping abilities.
But right outside is someone who definitely does. "I'm not nervous because I do really believe in him," a pregnant Kardashian tells Ryan Seacrest.
West then tells one of the judges that one of their names is mentioned in his try-out song, "Golddigger."
"It better fucking be me," J. Lo jokes.
It was, and J.Lo — and the whole panel — couldn't have enjoyed West's version of "Golddigger" without Jamie Foxx anymore.
And, without any of Idol's trademark deliberation, Kanye gets a golden ticket. He's too elated, running up to get his pass to stardom and fame.
As they would say, Kanye's "going to Hollywood!" I'm sure his wife is beyond thrilled and proud of him. It's unclear if Kanye will continue on to Hollywood (maybe Idol is giving viewers a hint that he'll make a guest appearance or that his music will be the theme of one episode?), but his audition was worth the wait.
Image: American Idol/Youtube (7)