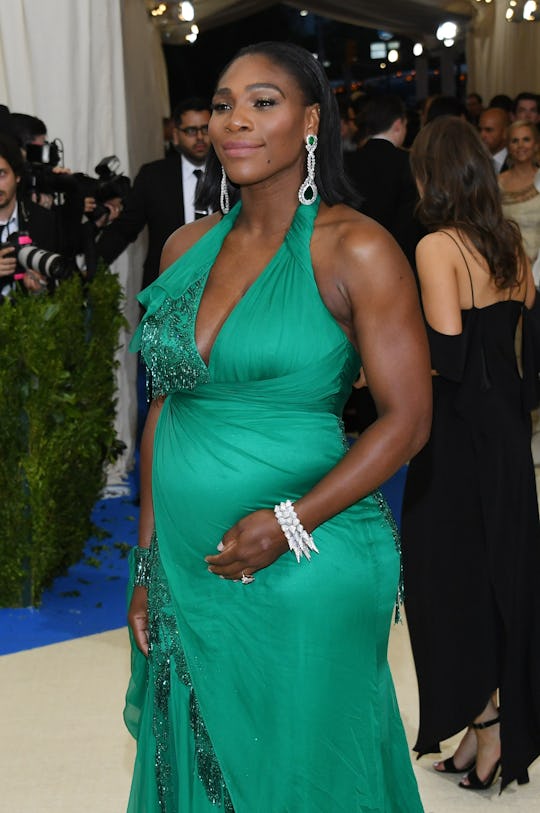 Dia Dipasupil/Getty Images Entertainment/Getty Images
Serena Williams's DGAF Pregnancy Style Is An Inspiration To Us All
Since Serena Williams accidentally revealed her pregnancy on Snapchat last month, she's been applauded for her gorgeous maternity style. At the Met Gala last week, she looked effortlessly glamorous in an emerald-green custom-made Atelier Versace gown, pairing a spiked cuff and drop earrings with her baby bump. She's also shown off her pregnancy style on Instagram, posting a selfie in a sexy short trench dress at a Burberry bag launch party.
Throughout her pregnancy, Williams seems determined to prove that maternity style doesn't have to be dowdy and boring. In fact, it can be eye-catching and sexy. "This is a class trench, and then I just trimmed it up and made it a dress, with a high slit in it—even though I'm pregnant. I want to be a sexy pregnant person — you can do it," she told the Los Angeles Times about her Burberry party look.
But even though Williams has, for the most part, been applauded for her effortless pregnancy style, she's also been the target of racist and sexist commentary. On Instagram, commenters attacked her for wearing a belt with her trench, chiding her to "leave room for the baby." Worse, some commenters left a barrage of racist comments, calling Williams a "monkey" and the n-word.
The racist responses come as no surprise. Throughout her career, Williams has been mocked for her muscular build. By playing a sport that has traditionally been considered the domain of white people, Williams's build paired with her dark skin color mark her as "other" in the world of tennis. The use of coded, racist terms like "monkey," "gorilla," "ape", and "savage" proving that the derision also stems from deeply entrenched racism.
"This goes beyond Williams' body. Not only is her womanhood consistently denied, her character is deemed as dominant, aggressive and arrogant," Huffington Post writer Zeba Blay wrote about the criticism. "Everything from her hairstyles to her celebratory dances have been regarded as "ghetto" or uncouth. No matter her success, her intelligence or her graciousness, her humanity is consistently denied."
When black women are pregnant, their bodies are subject to even more intense focus and critique.
Now that she's pregnant, Serena's blossoming baby bump has provided commenters with the perfect opportunity to even further police her body. This criticism ranges from silly and judgmental (for the record, it's safe to wear a belt during pregnancy), to outright racist.
In a recent Instagram, Williams is seen posing in front of the Lotte New York Palace with flowers in hand in a light gray maxi dress and casual sneakers. The photo evokes relaxed beauty and joy, but the comments got ugly, with people comparing her to a "linebacker" and a "cow." After she was photographed by TMZ in the same gray maxi dress at a Dollar Tree in Palm Beach, this time sporting her natural hair and athletic shoes, commenters pounced on her, calling her "busted," "disgusting," and "a nappy headed n--ger."
As much as women's bodies are up for public and open discourse, black women's bodies are even more so. The obsession with analyzing and critiquing black women's bodies goes back to the story and legacy of Saartjie Baartman, a.k.a. the Hottentot Venus, an African woman whose physique was put on display in a nineteenth-century freak show attraction. The historical obsession with black women's bodies gives white people implicit permission to mock them, like when tennis pro Caroline Wozniacki paraded around the court in a padded shirt and skirt in her best Serena Williams impression.
Apparently, not even Williams is immune to the cultural bias against black motherhood.
When black women are pregnant, their bodies are subject to even more intense focus and critique. Earlier this month, Beyoncé, who is pregnant with twins, confronted this firsthand when a gossip site accused her of having lip injections during her pregnancy. (Her publicist penned an angry response, stating that increased fluid can cause swelling in the face during pregnancy.) The negative portrayals of black maternity and black motherhood in popular culture, which has historically depicted black mothers as addicts, prostitutes, or "welfare queens," has long served to enforce racial stereotypes.
Apparently, not even Williams is immune to the cultural bias against black motherhood. After Williams was photographed at a news conference in April, former tennis player Ilie Nastase made a racist comment about Williams's unborn baby, joking: "Let's see what color it has. Chocolate with milk?" (Nastase later apologized.)
But even though Williams's body is being policed more than ever, she apparently isn't bothered by the haters, and is even directly confronting them with her sexy, DGAF pregnancy style. In a subtle nod to her haters, the mommy-to-be posted an Insta of her toned back at the Met Gala as she lifted her chiffon skirt to the sky, directly showing the middle finger to trolls who might criticize her for showing off her body during her pregnancy. And in her latest Instagram, she flaunted her curves in a denim jacket and skintight white body-con dress.
In her Instagram response to Nastase's racist comment, Williams quoted a poem by Maya Angelou: "Does my sassiness upset you? Why are you beset with gloom/You may shoot me with your words… you may try to kill me with your hatefulness, but still, like air I rise."
And rise she does. In typical Serena Williams fashion, she just keeps winning, through pregnancy and beyond.