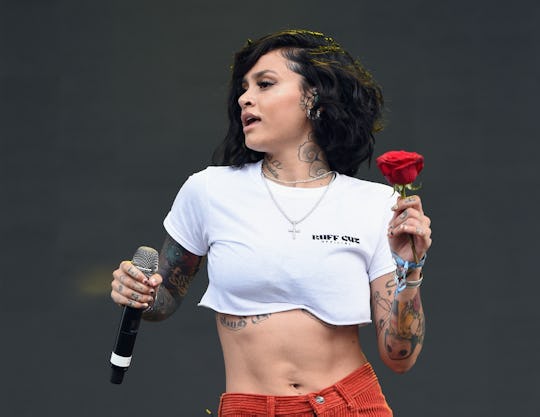 Kevin Winter/Getty Images Entertainment/Getty Images
Kehlani Reveals She's 4-Months Pregnant With A Baby Girl
Rapper Kehlani is not afraid of being honest with her fans. Her super relatable personality is what makes her so popular with her fans — and her latest news makes her even more relatable (if that was even possible). On Friday, Kehlani revealed she's four months pregnant with a baby girl and fans are super happy for her.
Kehlani took to Instagram and Twitter at the end of the week to make her huge announcement — to the delight of fans — acknowledging her ability to always be open and honest with her fans (while keeping this major news a secret).
"If you know me, you know I've dreamt about motherhood since I was very young," Kehlani wrote in the Instagram post announcing her pregnancy. "When asked what my goals are, it's always the idea of a big healthy happy family and whatever comes along is a plus."
Kehlani also said in the post that she is currently four months pregnant with a baby girl (OMG), but never wanted to keep it a secret from her fans and admirers. "I knew sharing something so personal and precious could bring stress into my world but there isn't a word anyone could say my way that would take away from this," Kehlani said.
Seriously, you can feel all of the love that she has from her daughter the second you see her gorgeous maternity photos, which she posted on Instagram. Kehlani practically defines the term "pregnancy glow."
Editor's Note: The Instagram post has since been deleted.
Since Kehlani has such a strong relationship with her fans and friends, it shouldn't come as a surprise that everyone is super excited for the singer. Famous friends of the singer took to the comments of Instagram to share their excitement for her.
"Soooo much love to you Mommy!," singer Halsey wrote. "You're gonna be the greatest Momma ever! Your little one is so lucky to have you and your incredible energy guiding her through this life."
"Congratulations my love!!," singer Janelle Monae wrote. "This is so beautiful!! You look so gorgeous!! You will be an amazing mom!"
"Mothers lead the way for us all," Joel Madden, lead singer of Good Charlotte, commented on the post. "Congrats on the next chapter — what a blessing."
And fans on Twitter were just as excited for the mom-to-be — their reactions are so funny and so sweet.
Like, seriously excited.
But some fans are just a little confused about who the baby's father is, especially since Kehlani is not currently in a relationship, according to Newsweek, and announced earlier this year that she is queer, according to E! News. Kehlani addressed this on Friday — while she isn't keeping the news a secret, she isn't immediately announcing who her partner is, either.
"My partner is my best friend and quite frankly the only man on earth I trust," Kehlani tweeted. "We are so ready for you mija!!!!"
The best thing about Kehlani being so open with fans is that they will get to be there alongside her throughout the next five months of her pregnancy and her journey throughout motherhood. And although fans might be super excited for Kehlani, no one is more excited than the mother-to-be herself, who wrote the sweetest message to her daughter on Instagram:
Dearest little girl, I am so proud to be your mommy. I am so proud to have received you. I cannot wait to meet you, I know I will be 50,000 more special than I can even imagine at this moment.
And Kehlani will get to meet her daughter sometime around March.
Congratulations to the mother to be!