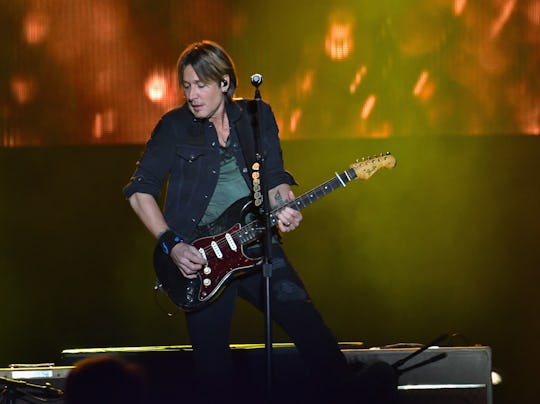 Gustavo Caballero/Getty Images Entertainment/Getty Images
Keith Urban's Kids Send Him Good Luck Ahead Of ACM Awards
One country singer's daughters clearly know there's nothing better than a sweet message from your family to lift the spirits: According to Us Weekly, Keith Urban's kids made a good luck sign for him ahead of the 2017 Academy of Country Music Awards on Sunday. Urban stands to take home seven awards at the event, in categories such as Entertainer of the Year, Male Vocalist of the Year, Album of the Year, and Song of the Year — but as Urban recognized in his caption of his Instagram picture, with daughters like his, he's already won.
Urban uploaded a snapshot of his two daughters, 8-year-old Sunday Rose and 6-year-old Faith Margaret, holding the good luck sign they made him. He captioned it, "When my daughters do this......I've ALREADY WON!!!!" In the picture, both girls are smiling, and the sign seems to read, "Good luck Daddy ... win or loose dose not matter," alongside a smattering of little hearts and one large, smiling heart.
Urban then uploaded a video of himself and his wife, actress Nicole Kidman (who is also Sunday and Faith's mother), heading to the awards show. The couple got married in 2006 in Sydney, then welcomed Sunday in 2008. Faith then came along in December 2010, born via surrogate.
Chances are Urban won't need the luck his daughters have so adorably sent his way for the ACM Awards. According to Rolling Stone, Urban headed to the country music awards show with the highest number of nominations among this year's nominees and his first Entertainer of the Year nomination since 2010. He's also nominated for Male Vocalist of the Year, Album of the Year, Single Record of the Year, and Song of the Year, according to the Academy of Country Music.
Not only are Urban's daughters big supporters of their dad's music career, it turns out they're fans as well, according to People. "Sometimes I'll just hear Sunny singing 'Kiss a Girl,'" Urban told People. But he also mentioned that the the girls also like to diversify their playlists and listen to some pop, as well, saying:
[Sunday] sings "I Love It" by Icona Pop all the time. She [and sister Faith] sit in back of the car and sing, "I don't care, I love it, I love it." We've had to figure out the clean version of the song.
Hopefully Sunday and Faith will get to see their dad snag an award or two on television tonight — but it seems like they're pretty smart girls who have figured out that win or lose, it doesn't matter. He's already won out in the family department.