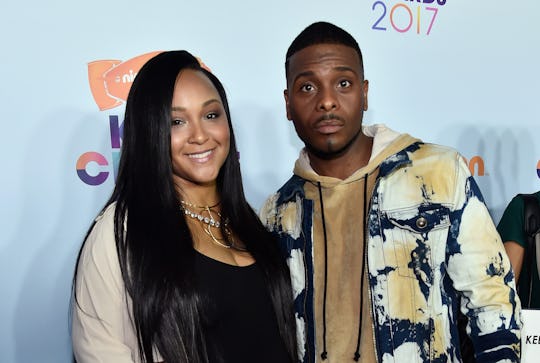 Alberto E. Rodriguez/Getty Images Entertainment/Getty Images
Kel Mitchell & Asia Lee Welcome A Baby Girl!
It's a very good (burger) day. Kel Mitchell and Asia Lee had a baby girl, and on Tuesday, they shared the news with the world, along with an adorable picture. The happy parents also revealed her original, powerful name — Wisdom.
Mitchell, recognized and beloved by '90s kids everywhere for both his role as a good-hearted dimwit in Good Burger and for his comedic partnership with Saturday Night Live's Kenan Thompson, announced Lee's pregnancy back in February with an appropriately burger-themed photo. Fans have been excitedly awaiting more news ever since. And in a bit of excellent timing, as articles and posts celebrating Good Burger on the 20th anniversary of its release flooded the internet, Mitchell posted a super-cute picture of tiny, newborn Wisdom taking a snooze on Instagram.
The proud father wrote,
Fun reading all the post for the 20th anniversary of Good Burger today thx for the love! We have also been celebrating here at the Mitchell household since the weekend. My love @therealasialee gave birth to our baby girl Wisdom on Saturday afternoon. She was 7lbs 11oz with a head full of hair and full of happiness! Im so grateful and happy! My baby girl is here! So much joy in my heart. She is so adorable!
Mitchell also had plenty of praise for Lee, his wife since 2012, writing,
My Wife is the most amazing woman she was so strong throughout the birth. Im so proud of her! @therealasialee you are My super woman! You amaze me everyday! Thank you for this gift! Our daughter is a reflection of your beautiful greatness and loving spirit! Our daughter is a blessing!
Wisdom is Mitchell's third child, and Lee's first. Mitchell's two older children from a previous marriage also have creative names, Allure and Lyric. But his newest daughter's name feels fitting for the present moment. After all, we could all use a little more wisdom in the world right now.
We'll have to wait and see what someone with such a name will think of her father's trademark silly humor (in a retrospective on Tuesday, Joshua Rivera at GQ called Good Burger a "stoner film for children," which is beautifully accurate), but we're betting she'll love it.
Back in March, Mitchell told People that he and Lee were getting plenty of suggestions for baby names, saying, "We've got a lot of people giving us names. Some crazy names, but you know we'll see."
It seems that, ultimately, Mitchell and Lee made the right choice. Congratulations to the happy family!