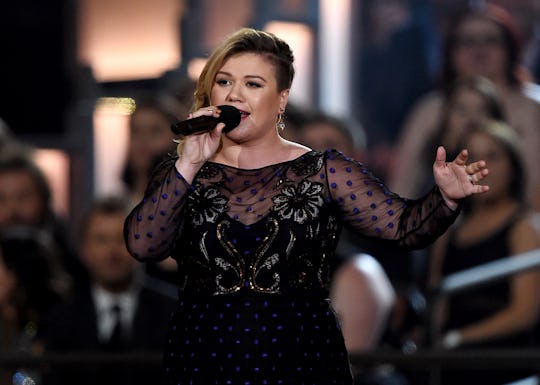 Ethan Miller/Getty Images Entertainment/Getty Images
Kelly Clarkson Gives Birth To A Baby Boy & The New Mom Couldn't Be Happier
Announced just one week after the finale of American Idol —where she got her superstar start — Kelly Clarkson gave birth to a baby boy, named Remington Alexander Blackstock, making this her second child with husband Brandon Blackstock. It is almost poetic, in a way, that Clarkson gave birth to her second child just days after the American Idol finale. The mom was noticeably absent the night of the finale in anticipation of the birth of her son. Now, she's welcomed a new "idol" in her life, and she couldn't be more happy.
The couple welcomed their first child together in June 2014 — a girl, named River Rose. Blackstock is also the father to two other children from a previous relationship, Savannah and Seth. The Clarkson/Blackstone clan is growing, and the happy parents couldn't be happier about it, according to Clarkson's tweet welcoming her new son into the family.
On Thursday, just two days after their new baby was born, Clarkson announced the birth of Remington Alexander on Twitter, noting that she and her husband (and manager) couldn't be "happier or more in love" with their new son. The couple certainly has a lot to celebrate, since Clarkson noted that her second pregnancy was a slightly more difficult.
In November, Clarkson told CBS This Morning that she was facing a few struggles during this pregnancy. She said, "It's pretty bad. I have to get IVs and fluids, I get so dehydrated. It's really bad." The good news is, as seen in the tweet above, Clarkson notes that the baby is healthy.
The couple has been married since 2013. They first got together in early 2012, and married in a small ceremony in Tennessee in 2013. ABC News reported in 2013 that Clarkson said that she and her husband were hoping to start a family soon after getting married, specifically noting that they want "two more," for a total of four (counting Blackstock's two older children) kids. It seems like the couple's life is going according to plan, plus, they now have two very able-bodied babysitters to pick up the slack whenever needed.
Although she was awaiting her due date, Clarkson absolutely slayed her pre-taped performance on American Idol's finale. The singer sang a compilation of all of her greatest hits — yes, she has that many for a seven minute performance — proving to all of us that her new baby has a rock star mom, and I couldn't be more envious.
Congratulations to Clarkson and her family on their new addition!