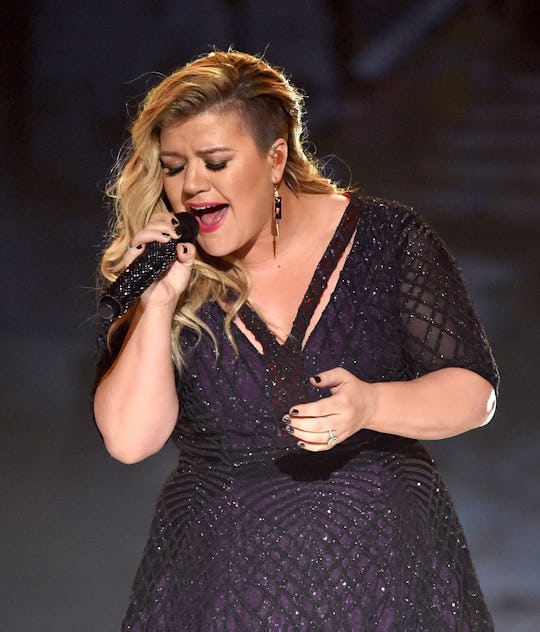 Kelly Clarkson Opens Up About Hard Pregnancy, & She Isn't The Only One
Pregnancy is hard, damn hard. It is hard on your body, hard on your mind, and hard on your soul. Don't get me wrong: It can be enjoyable, exhilarating, exciting, and inexplicably amazing, but that doesn't mean growing a human being is a cake walk. Proof: singer Kelly Clarkson is talking about her difficult pregnancy. Clarkson, 33, who revealed just a few months ago that she is expecting a boy, recently opened up about how trying her second pregnancy has been:
I'm familiar with all-day sickness. I have to get IVs and fluids because I get so dehydrated. It's really bad.
Unfortunately this isn't a new experience for Clarkson. While pregnant with her first child, River Rose, the singer had similar health problems. In December 2013, Clarkson tole Ellen DeGeneres that she would "vomit a good dozen times a day."
Clarkson isn't the only celebrity to be honest about how hard pregnancy can be. Kate Middleton openly spoke about her hyperemesis gravidarum — an severe form of nausea which causes extreme vomiting that can result in dehydration. Melissa Joan Hart, who's had three children, says that while she loves having babies, but doesn't love carrying them.
I hate being pregnant—the lack of energy at the beginning, having to change your diet. It's a huge adjustment, and you have to change your whole lifestyle for a few months.
And Kim Kardashian told Ellen that she "had a few medical issues" including pre-eclampsia when she carried North. She went on to say:
It was tough. And I gained a lot of weight. It was hard on me mentally. The pregnancy, I wouldn't wish that on anyone.
So feel better, Kelly (and all pregnant mamas-to-be)!
Image: Ethan Miller/Getty Images Entertainment