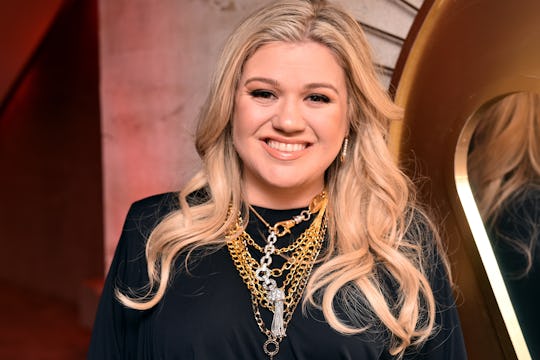 Jared Siskin/Getty Images Entertainment/Getty Images
Kelly Clarkson Responds To 'The Voice' Contestant Who Accused Her Of Stereotyping Lesbian Singers
The original American Idol has been called a lot of things, but this one's new. Molly Stevens, a recently-eliminated contestant on The Voice, called Kelly Clarkson "small minded" and accused the show's judge of stereotyping gay singers, but fans had Clarkson's back, and her response made it very clear that Stevens' orientation had nothing to do with Clarkson's comments on the show. Stevens' accusation came in a now-deleted Instagram post that was captured and shared by Twitter user Philip R. Leodoro, who describes himself as a gay Clarkson fan in his bio.
Stevens wrote that Clarkson's comparison of her voice to that of Melissa Etheridge and the Indigo Girls "did us all a disservice and only threw us into a labeling trap," adding, "it's a common stereotype that happens too often." Leodoro tagged both Stevens and Clarkson in his tweet, and called on Stevens to apologize. "She has Always supported the gay community," he wrote. "As a fan & a gay man I am offended!" Clarkson herself retweeted him just hours later, shedding new light on Stevens' story. "Wow. This really bums me out," she wrote, before explaining that Stevens took her comparison out of context.
Clarkson clarified that she compared Stevens to Etheridge and the Indigo Girls "purely because of the rasp in her voice & that she's an amazing storyteller," and pointed out that Stevens' version of the story omitted the fact that Clarkson also compared her to folk singer Patty Griffin, who was most recently romantically linked to Led Zeppelin frontman Robert Plant, according to the New York Times. She could have just as easily compared Stevens' raspy voice to Stevie Nicks, who's straight, or Janis Joplin, who was bisexual, but the fact is, Stevens really does sound a lot like the coincidentally gay singers that Clarkson cited.
Clarkson's comments came during the judging period on Monday's episode of The Voice, after Stevens "battled" contestant Justin Kilgore in a duet of "Burning House" by Cam. When fellow judge Blake Shelton remarked on Stevens' ability to transition from "that hard-edged voice that she has into that falsetto sound," Clarkson interjected, "It still has rasp!" During her turn to speak, Clarkson said, "Molly, you have this crazy cool Indigo Girls, like, Melissa Etheridge, Patty Griffin, just — greatness." Stevens could be seen beaming at the comparison.
Leodoro's claim of Clarkson's support isn't without merit, either. Thanks to her longtime advocacy, she was invited by Billboard to pen a "love letter to the LGBTQ community" in honor of Gay Pride Month 2017:
It always makes me feel sad when someone from the LGBTQ community comes up and says thank you so much for being supportive, and how hard their life has been, and how helpful it is when people in the spotlight use their influence to help others. It shouldn't be this rare, unique thing. It should be a no-brainer to lift, and support everyone, in every community, and encourage people rather than fear or judge what is different from themselves. I can't wait for the day when there's not a need for someone to be thanked for doing the obvious.
In a 2015 interview with Pride Source, Clarkson downplayed her label as a gay icon, saying, "I don't ever look at a fan as a gay fan or a lesbian fan or a straight fan ... music is the one thing that connects us." When asked how she'd respond if one of her children came out to her, she responded, "I'd be like, 'Awesome! When do we meet him or her?' Honestly, it's so funny, it doesn't even register in my world as different."
Stevens now appears to have changed her tune with regards to Clarkson's comments. In addition to deleting the original Instagram post, she posted an apology on Twitter, telling Clarkson, "I truly apologize for thinking differently. I look up to you." The lesson: don't come at Miss Independent with your accusations.