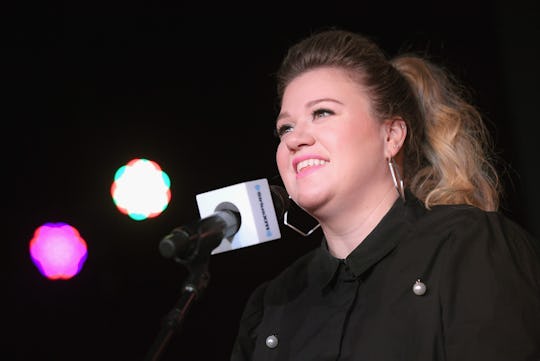 Dimitrios Kambouris/Getty Images Entertainment/Getty Images
Kelly Clarkson Says Her Kids Are A Huge Reason Why She Advocates For LGBTQ+ Rights
Kelly Clarkson is many things. She is the first-ever winner of the now iconic singing competition show, American Idol. She is a wife, a mother, and a successful artist. And she's a total boss when it comes to taking a stand. Most recently, Kelly Clarkson revealed a big reason why she supports LGBTQ+ rights, explaining that her kids have a lot to do with her passion for progress and inclusivity.
Clarkson has just joined the It Gets Better Project to help fundraise for the nonprofit, which "exists to uplift, empower, and connect LGBTQ+ youth around the globe," according to the organization's website. In a statement released to People, Clarkson explained her passion for the project, and so much of it revolves around her being both a mother and stepmother to four children, explaining:
As a mother and as someone who wants my kids to grow up in a world where they know their self-worth she is a huge supporter of the It Gets Better Project and its goal to uplift young LGBTQ+ people through messages of hope and positivity.
Clarkson's husband, Brandon Blackstock, has two children from a previous relationship — 16-year-old Savannah and 10-year-old Seth — and now Clarkson plays an active role in being their stepmom. Additionally, Clarkson and Blackstock share 3-year-old River Rose and 19-month-old Remington Alexander. Clearly, being a mom has shown Clarkson that love is such a powerful concept and that there are way too many kids out there who aren't shown enough of it, which is why she's stepping up for those who need it.
The singer will be working on a contest for the It Gets Better Project which asks participants to create their own art that represents their own "meaning of life," as a nod to Clarkson's recently released album, Meaning Of Life. Then, whoever wins the artwork contest will see their art turned into a postcard available for purchase online.
What's more, the contest is being run during the middle of the holiday season, at a time when so many are stressed out and might have to deal with unaccepting family members. So, truly, this contest and subsequent fundraiser serve as important reminders of hope.
And that seems to be done on purpose. Brett Peters, who serves as the director of media and strategic partnerships for the It Gets Better Project, told People that this latest collaboration was important on more than one level:
We believe the opportunity to illustrate the "meaning of life" will deeply resonate with supporters of the Project and fans of Kelly Clarkson, who is an outspoken advocate on the importance self-worth and a vocal supporter of the LGBTQ+ community.
Clarkson has long been an advocate for the LGBTQ+ community, writing a touching and poignant letter for Billboard back in June for Gay Pride Month specially addressed to the community.
"It always makes me feel sad when someone from the LGBTQ community comes up and says thank you so much for being supportive, and how hard their life has been, and how helpful it is when people in the spotlight use their influence to help others," Clarkson wrote, continuing:
It shouldn't be this rare, unique thing. It should be a no-brainer to lift, and support everyone, in every community, and encourage people rather than fear or judge what is different from themselves. I can't wait for the day when there's not a need for someone to be thanked for doing the obvious.
Clarkson's love for the LGBTQ+ community is so evident and powerful, isn't it? And now, knowing Clarkson's passion behind her latest project, it's even more clear how strong and pure this love is.
Check out Romper's new video series, Romper's Doula Diaries:
Watch full episodes of Romper's Doula Diaries on Facebook Watch.