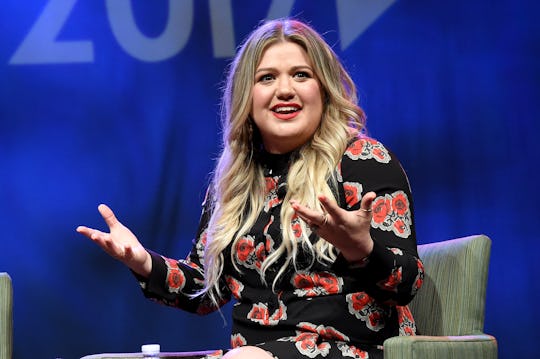 Rick Diamond/Getty Images Entertainment/Getty Images
Kelly Clarkson Says Now Is An "Important Time" To Teach Kids About Sexual Misconduct
As allegations of sexual assault and harassment made against Harvey Weinstein continue to make headlines, many children may start to get an inkling that all is not right in our power structures. For parents who want to protect their kids from how scary this world can be for women, it might be tempting to sweep all this under the rug a little while longer. But Kelly Clarkson's thoughts on the Weinstein allegations are spot on. The singer recently said that she thinks right now is an "important time" to talk to your kids about sexual misconduct, and she's so right.
Clarkson spoke up on Friday, Oct. 13, at Variety's Power of Women event in Los Angeles. She had strong opinions on how parents should use the recent news as an opportunity to teach kids about these difficult and important issues. In order to try to make a better future, according to Us Weekly, she explained how she's planning to talk to her kids about it all:
I think we should take this horrific, negative thing that's happening and teach not only our daughters, but our sons, to stand up for what's right ... and how to respect other people and their bodies and how to love and be kind.
Clarkson has two children with music manager husband Brandon Blackstock, a 3-year-old daughter named River and an 18-month-old son named Remington. Together, Clarkson and Blackstock are also raising a son and a daughter from Blackstock's previous marriage. According to Us Weekly, Clarkson continued:
We have four children. It's an important time to mold these lives ... to sit down and have these conversations no matter how awkward they might be.
Regarding the allegations of Weinstein's long pattern of harassment and assault, a spokesperson for Weinstein told Romper:
Any allegations of non-consensual sex are unequivocally denied by Mr. Weinstein. Mr. Weinstein has further confirmed that there were never any acts of retaliation against any women for refusing his advances. Mr. Weinstein obviously can't speak to anonymous allegations, but with respect to any women who have made allegations on the record, Mr. Weinstein believes that all of these relationships were consensual. Mr. Weinstein has begun counseling, has listened to the community and is pursuing a better path. Mr. Weinstein is hoping that, if he makes enough progress, he will be given a second chance.
Clarkson's thoughts are so important for parents to hear right now. With every new allegation and every assertion that the scandal surrounding Weinstein is just the tip of the iceberg, a big part of the problem becomes more obvious. Now, it's clear that a lot of otherwise good people have spent far too long looking the other way because they felt helpless and didn't know how to handle their own, or someone else's, very real pain.
The "Me too" movement that took over social media on Monday showed the ways in which almost every woman has a story of being harassed or assaulted, and how in so many of those stories, women spent years doubting whether anyone would believe them if they came forward. Some even doubted themselves, and whether their feelings of violation were valid.
But by talking to children from a very early age about how this is not OK, perhaps parents can help shape a new generation in which men and women and non-gender-conforming people won't have to say "me too" for others to realize the gravity of the problem. Perhaps kids today can grow up into allies who speak out, who know both how to recognize right from wrong and how to do something about it. Perhaps they'll grow into women and men who don't learn to bite their tongues and keep their heads down as the gropings, the comments, and more pile up.
It all starts with talking openly. As Clarkson said, sit down and have those conversations, no matter how difficult they might be.
Watch Romper's new video series, Romper's Doula Diaries:
Check out the entire Romper's Doula Diaries series and other videos on Facebook and the Bustle app across Apple TV, Roku, and Amazon Fire TV.