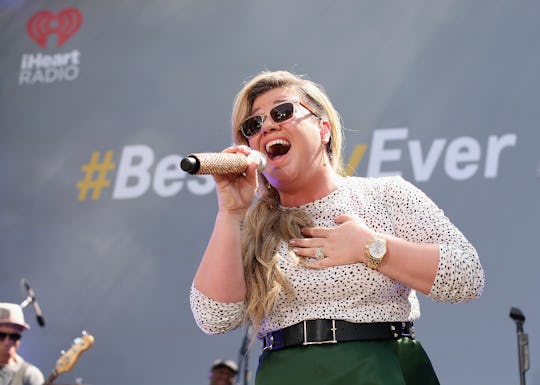 Christopher Polk/Getty Images Entertainment/Getty Images
Kelly Clarkson Is A Princess Party-Planning Pro
I might be a 31-year-old mom-of-two, but the part of me that is still disappointed that I didn't get a Barbie Golden Dreams Motorhome for Christmas in 1993 is totally considering asking Kelly Clarkson to plan my next birthday party. Kelly Clarkson's daughter River Rose had a princess-themed birthday party over the weekend to celebrate her 3rd birthday on Monday, and honestly, it was pretty much what fairy tale dreams are made of. According to People, Clarkson and her husband, Brandon Blackstock, threw an at-home birthday party for River that featured a pink tulle princess carriage (naturally), and colorful princess cupcakes, while the birthday girl rocked a Beauty and the Beast-inspired gold dress during the bash. In a sweet message for her daughter on Instagram, Clarkson wished her "smart, witty, & beautiful girl" a happy birthday, and revealed that River had asked for "pink forever" on her special day (amazing).
But as much as the day was a celebration for River, it was no doubt a big day for Clarkson and Blackstock too, who welcomed their daughter — and their first child together — back in 2014, not long after eloping in Tennessee in October 2013. The couple's second child, a son named Remington, was born in April 2016 (they celebrated his first birthday at home, too, according to E! News, albeit with a less elaborate party), and Clarkson is also a step-parent to Blackstock's children from his first marriage, Seth and Savannah.
Celebrity or not, raising four kids is a lot for any mom to handle, so it's no surprise that the singer admitted during a radio interview with Elvis Duran and The Morning Show in January that she and Blackstock don't have much alone time these days. According to People, Clarkson explained, "we don't generally do a lot honestly, because we're just so tired!" (Parents everywhere are nodding in agreement.)
In April, Clarkson also celebrated another big milestone: her 35th birthday. According to TODAY, the singer was joined by friends and family for a fun Harry Potter-themed day out at Universal Studios in Orlando, and Clarkson shared some pics from the day on social media — complete with a sweet baby-wearing selfie with her young son, as well as a photo of her super impressive Harry Potter-inspired birthday cake.
Motherhood and family might be a major focus of Clarkson's life these days, but the American Idol alum doesn't seem to mind one bit — something she personally attributes to delaying motherhood. According to People, Clarkson told Elvis Duran and The Morning Show that by the time she had River, she'd already spent plenty of time living her life on her own terms:
I had kids older, so I had selfish times when I'd go out and have fun so I don't feel like I've missed anything. I feel like a lot of moms that started at like 21 having kids — no, no. I started at 30, so we're good!
In fact, while most celebs see events like award ceremonies as a time to cut loose and party, when it came time to choose her date for the Grammy Awards in February, there was only one person she really wanted to be there: her daughter, River. According to Us Weekly, Clarkson revealed in a Facebook video that she'd been nominated for her song, "Piece By Piece," and that since she actually wrote it for her daughter, she wanted to bring her along to the event.
The song was an emotional one for Clarkson, and in a 2016 interview with Ryan Seacrest, the singer explained how her husband's relationship with their daughter had inspired her to write it:
Watching my husband love on his daughter all the time, you know, go to her events and just be there and, like, be present is, like, hard to watch but beautiful to watch. I know that my kids are going to have that.
There's no question that River Rose is growing up fast, and it looked like she had a total blast at her amazing birthday party. What's more though, is that Clarkson and Blackstock honestly seem to be loving their crazy, busy life as parents, and that they are having a lot of fun together as a family — even if they are exhausted by it all at the end of the day.