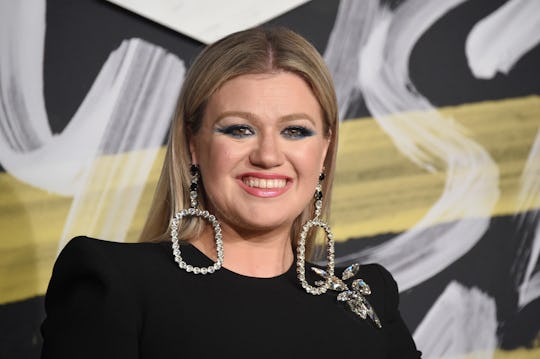 Mike Coppola/Getty Images Entertainment/Getty Images
Kelly Clarkson's 4-Year-Old Daughter Has A Bizarre, But Totally Cute New Obsession
It's so easy for little kids to become obsessed, especially with TV shows like Daniel Tiger's Neighborhood or Paw Patrol. But Kelly Clarkson's 4-year-old daughter, River Rose Blackstock, is already setting herself apart from other kids her age. During a recent appearance on The Tonight Show with Jimmy Fallon, Clarkson said her daughter's new obsession is one that might not be the most popular on the playground, but is still totally adorable.
As her mom revealed, little River is obsessed with Chris Martin, more commonly known as the lead singer from Coldplay, according to People. But Clarkson told the show's host, Jimmy Fallon, that River is only obsessed with Martin from one very specific moment in time: his music video for the song "Yellow," which was filmed in 2000. Clarkson told Fallon that River is so obsessed with the song (and music video), that they watch it together every single night before River goes to bed.
"And when I say obsessed, I mean the boy from the video, not Chris Martin now," Clarkson said, according to People. "She doesn't understand that he's not the boy in the 'Yellow' video, like when it first came out years ago."
Of course, a person can change a lot over the course of 18 years, so this revelation only makes River's love of Martin all the more sweet and unique. Needless to say, River won't be decorating her childhood bedroom with posters of Martin, unless they're straight from the music video for "Yellow."
So how did her very unique love of Martin start? Clarkson explained to Fallon that it began when she started singing "Yellow" to her daughter as a lullaby after she got sick of hearing "Twinkle Twinkle Little Star" but wanted to still hear a "song about stars," according to People. And that is when River fell in love.
But, on the list of things for little kids to be obsessed with, Chris Martin and "Yellow" might be one of the better ones. Unlike some theme songs to kids TV shows or YouTube videos — which can drive some parents mad — "Yellow"'s melody and lyrics are quite pretty. Clarkson has one very cultured 4-year-old on her hands.
But it makes sense why River would be so into good music; Clarkson is an award-winning musician, while River's dad and Clarkson's husband, Brandon Blackstock, is a manager for some seriously talented musicians, according to E! News. It shouldn't come as a surprise that this combination has produced one music loving kid.
But River clearly isn't your average kid. In a recent Instagram post, Clarkson documented that River was "reading" from the Student's Dictionary during a recent road trip, according to Country Living (or at least, she was looking at the words in the book). And in an interview with People this past April, Clarkson revealed that her daughter was already showing a lot of personality at her young age. Clarkson said, according to People:
She will run a company one day because there's no way she's gonna work for anyone. She does not heed advice well. She's just very ballsy, which is awesome.
It's traits like these that make Clarkson just a bit fearful for the future. Clarkson told Fallon on Tuesday night that she isn't prepared for River's real obsession with boys.
"It's weird and scary foreshadowing," Clarkson said, according to People. "I'm like, 'You need to slow your roll!'"
Considering that Clarkson said that River was "into bad boys" after falling in love with Gaston during a trip to Disneyland earlier this year, she definitely has her hands full.
Fans will hopefully be able to hear plenty more about River's many unique interests when Clarkson's new daytime talk show debuts next year.