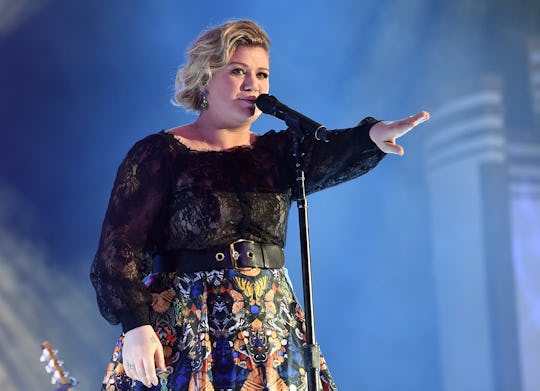 Ethan Miller/Getty Images Entertainment/Getty Images
Kelly Clarkson's Father's Day Message Features Remington & It's Too Cute — PHOTO
Kelly Clarkson and her growing brood hold a special place in many people's hearts, since fans have practically watched the song bird grow up right in front of their eyes. Which is why it was so fun to see her share a little glimpse of her home life over the weekend, complete with a little look-see at her babies. Kelly Clarkson's Father's Day Message featured Remington, River Rose and her husband, and fans couldn't be more thrilled for her happy little family.
River Rose just turned 2, which is hard to believe. She's getting so big! Remington, just turned 2 months old. In addition to the two little ones, Clarkson's husband, Brandon Blackstock, also has two kids from a previous relationship, Savanna and Seth.
Clarkson isn't even the biggest music star in the family. Blackstock's own dad, Narvel, was once married to superstar Reba McEntire, who has gushed in the past about her "buddy" Remington.
To honor Brandon on father's day, Kelly posted this sweet, candid shot of the father of four wrangling two babies at once — no easy feat. She also wrote the loving caption: "Happy Father's Day...Thnx 4 being such a great dad 2 all 4 of our kiddos!" She tagged the tweet with the hashtag, #sexydaddyalert.
Fans haven't gotten a peek at little Remington since last April when Clarkson and Blackstock shared some sweet newborn snaps of their second baby.
And this heart melting new mom picture of Remington and Kelly.
She also shared this adorable picture of all four of the Blackstock kids posing outdoors on a daybed — as one does!
It was obviously a wonderful and joy-filled Father's Day for Kelly and family, and it's nice that she included her fans.
The singer has given much credit to her husband for healing many of her childhood wounds and heartbreak issues from problems she had with her own father, which she chronicles in her recent hit song "Piece by Piece." Clarkson's father, Stephen, abandoned her at a young age, according to ET Online.
She performed the song on American Idol and brought down the house, even bringing the judges to tears.
The lyrics to "Piece by Piece" include these heartfelt words for her husband, which are the perfect message for Father's Day.
Piece by piece, he restored my faith, that a man could be kind, and a father can stay.
Happy belated Father's Day to Brandon Blackstock, Clarkson, and their four kiddos. Looks like it was a great one.