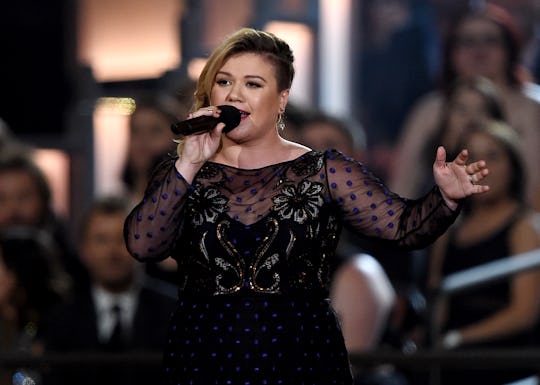 Ethan Miller/Getty Images Entertainment/Getty Images
Kelly Clarkson's 'It's Quiet Uptown' On 'Hamilton Mixtape' Is Beautiful & Heartbreaking
Remember when we all cried along with Kelly Clarkson as she serenaded the world with "A Moment Like This" on the first season of American Idol? Well, you might be reminded when you have a similar reaction upon hearing Clarkson's latest cover "It's Quiet Uptown" from Hamilton Mixtape. The mixtape features remixes and covers of songs from the hit broadway show, Hamilton. The track list has a wide range of popular artists, including Alicia Keys, John Legend, Wiz Khalifa, and more. The soundtrack will be released in full on Dec. 4.
"It's Quiet Uptown" is the song that captures the death of Alexander Hamilton's first-born son, Philip, in Act Two of Hamilton. In the musical, the song is sung by characters Alexander Hamilton and Angelica Schuyler. The song is about suffering, and successfully tears your heart in two — making you feel as though you too are undergoing the pain of losing someone near and dear. Us Weekly deems the song "just as powerful as the original." The publication goes on to review the song as such:
The American Idol winner truly makes the song her own, lending her iconic voice -- which often sings of familial heartbreak and enduring love -- to the already harrowing tune, causing fans everywhere to reach for the Kleenex.
This description hits the nail on the head. No parent wants to bury his or her child, and the lyrics of this song echo that notion while tugging on the heart strings of selfless guardians everywhere. "If I could spare his life/ If I could trade his life for mine/ He'd be standing here right now." The song really does hit hard, but in a beautiful way. It's calming with water-like sounds, but also crushing, as said aquatic noises turn out to be the drip-drop of salty tears.
"It's Quiet Uptown" will wreck you, but hurts so good that it's worth bawling until you have Kim Kardashian's ugly cry face.
The words to the song paint a picture in your head of Hamilton and his wife. "If you see him in the street, walking by her side/ Talking by her side, have pity/ Look around, look around/ They are going through the unimaginable." Clarkson repeatedly questions "can you imagine?" I can, Kelly!
You can also listen here, so you, too, can "learn to live with the unimaginable."