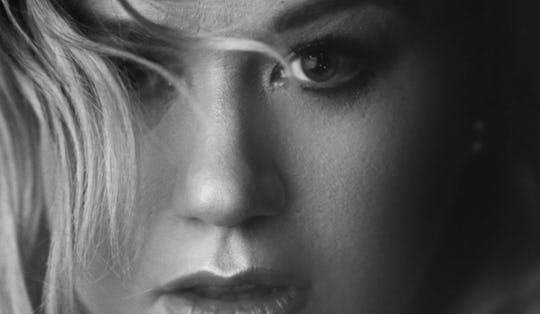 Kelly Clarkson/VEVO
Kelly Clarkson's "Piece by Piece" Video Features Her Daughter, River Rose, & It's Empowering, Of Course
This week in heart-on-your-sleeve ballads, the video for Kelly Clarkson's new song "Piece by Piece" features her daughter, River Rose, and it will truly give you all the feels. The song and vid came out Nov. 19, and Clarkson wants the song, which might sound a lil melancholy, to have a positive message. The singer called the experience of recording the song emotional, because "Piece by Piece" is a tribute to what a present father her husband Brandon Blackstock is to one-year-old River.
Earlier this year, Clarkson, who was crowned American Idol 13 years ago, told Glamour that being a mom made her reflect on her own childhood, when her father took off, leaving her a child of divorce and missing a dad. "From holding [River Rose] the first day, I was like, how could anyone walk away from that?" Clarkson continued, "Then I started thinking that my husband [Brandon Blackstock] is such a great father. He's not an audience guy—he is onstage doing the work with me. He changes diapers, he stays up, and if I've had a late night, he'll wake up with her in the morning. We're definite partners, and I felt so lucky."
So, understandably, "Piece by Piece," hits an emotional note. But Clarkson already thinks of herself as an inspired and passionate artist. She told Glamour, "I'm an emotional singer anyway, so it's easy for me to get lost in any story that I'm the vessel for at that moment." The takeaway message from "Piece by Piece," if you listen to the lyrics, is that River Rose's dad Brandon "restored" Clarkson's faith that a man can be the great dad all daughters deserve.
Clarkson told Today Parents that motherhood has helped her forgive her dad for not sticking around during her childhood, and that she chalks his decision to leave as part of "being human." She explained, "I don't know what my father went through as a child, and I don't why why he left and made the decisions he made, but everyone's human." She added, "I don't understand it for me, but I understand the depth of what that is - having a child - now, and he's made me want to be that much more present in my family."
And now River Rose, seen above rocking some serious blinged-out headphones, is about to be a big sister. In August Clarkson and Blackstock announced they're expecting a second child. In fact, the singer revealed the news when she was singing "Piece by Piece" at a Los Angeles concert in August. And baby number two is going to be a boy; no word yet on if he's planning a cameo in Clarkson's next video.
For now, Clarkson and her clan sound like they're just enjoying life and each other.
Which is all a good reminder that having a partner and kids is often an opportunity to build the family you didn't start with — you know, piece by piece. Aww, Clarkson, rock on, woman!
Images: Kelly Clarkson/VEVO; kelly_clarkson/Instagram