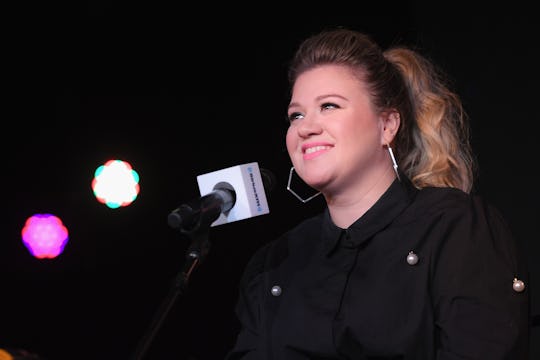 Dimitrios Kambouris/Getty Images Entertainment/Getty Images
Kelly Clarkson's Strategy For Being "A Badass Mom" Is Feminist AF
At the 2017 Billboard Women in Music event on Thursday night, singer Kelly Clarkson accepted the Powerhouse award, which goes to vocalists with "powerhouse" voices. And there's no denying that Clarkson has one of those. At the event, she called for female artists to support each other and lift one another up, and she specifically brought up Pink, a fellow female vocalist she's been a big fan of for a long time. Clarkson also talked about her strategy for being "a badass mom," as she put it, and it sounds like it's great advice for moms everywhere, and an excellent example for her kids as well.
Clarkson talked about working with other women in the music industry, and in particular about her recent 2017 American Music Awards collaboration with Pink, according to People. She said of their performance together:
It was more or less a positive situation of women coming together and not getting pitted against each other. I'm so tired. I'm so tired as a mother by watching it. Just accept the fact that there is room for everyone.
Clarkson also said that she is "a huge fan" of Pink, and generally had only wonderful things to say about the fellow performer. All those positive vibes she was giving off are a part of what make Clarkson a badass, supportive celebrity mom.
Clarkson said getting to perform with Pink at the AMAs "was the most powerful moment for me in 2017, other than being a mom. I'm a badass mom. Or least I aim to be." And she went on to say, according to People:
Awards are great, I'm very, very flattered, but I think its more the way you surround yourself, the way you lift people up and that kind of stuff comes back to you.
Which is really amazing life advice, and probably a huge part of Clarkson's strategy for being "a badass mom."
During her acceptance speech, Clarkson went on to say that you can be a great mom, and achieve all your dreams — "Achieve all the success you've always dreamed of since you were a kid," according to a video of the speech on Billboard. Again with all the positivity, right?
Committing yourself to lifting other women up is a great strategy for anyone to have, not just moms. But if that's part of what makes Clarkson a badass mom, then she's absolutely setting a great example for the rest of us.
Clarkson also had great things to say about the performer who introduced her at the event — Kelly Rowland, according to Vogue. She called Rowland "a badass" as well, and expressed interest in singing with her someday, too.
At the end of her speech, Clarkson said the award was for "all the women in this room tonight." She said, according to video of the speech:
If you're doing what makes you happy, and you're achieving what you've always wanted to achieve since you were a kid, or you're on your way there, you're winning. You're winning in life.
Which is exactly the sort of encouragement every woman, and every mom, needs to hear. Being supportive of all women, but especially women in her industry, is a big part of Clarkson's overall badass nature, and it's a game plan that we should all adopt in our own lives.
And if you need more proof that Clarkson is a badass, inspiring mom, look no further than her own Instagram. She consistently posts super cute photos of herself with her kids, or just of her adorable kids, who seem to be thriving with such a positive role model for a parent.
Even during an acceptance speech for an award she earned, when Clarkson could have spoken of her own awesomeness and achievements, she instead took the time to lift up other women in her field, and women everywhere. If that's all it takes to be a badass mom, then any mother has the ability to be just as badass as she is. All it takes is a little fangirling of fellow amazing mamas.
Check out Romper's new video series, Romper's Doula Diaries:
Watch full episodes of Romper's Doula Diaries on Facebook Watch.