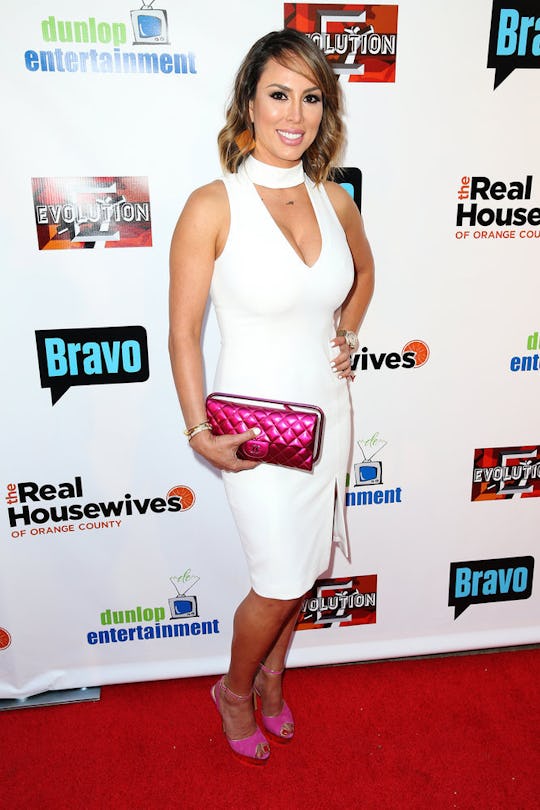 Joe Scarnici/Bravo
Kelly Meza Dodd's Instagram Posts Of Her Daughter Shows How Close They Are
Kelly Meza Dodd may be a newcomer on The Real Housewives of Orange County but she's already getting into arguments like a veteran Housewife. Inexplicably a friend of both Vicki and Meghan (who have never exactly gotten along), Kelly dove headfirst into the drama and has kept up with it ever since. Currently she's found her way into a feud with Shannon that resulted in quite the drunken shouting match at Shannon's 70s party, but when she's not in the thick of it Kelly seems to spend a lot of quality, non-shouty time with her family, as Kelly's Instagram posts of her daughter can attest to.
Kelly and Meghan have bonded over their fertility journeys, as Kelly went through the same thing Meghan is dealing with now when she conceived her daughter Jolie ten years ago. Viewers have seen plenty of Kelly's family on the show, as she and her husband Michael live with Kelly's brother and mom too; the entire family seems super close. Though they sometimes disagree (like when Michael wanted to let Jolie skip school one too many times and Kelly had to put her foot down), the family also shares many a laugh. Jolie seems to be a funny little kid with a hint of attitude no doubt inherited from her mom.
Kelly and Jolie seem to have a lot in common, at least from what's been featured on the show. Jolie was supportive of Kelly joining the cast in the first place, which can be hard for some kids, and she's made the most of her screen time. Whether it's getting ready for school, doing homework, or informing her mother that she is too old to like Justin Bieber, Jolie comes off like a pretty typical kid, albeit one who can be just as sharp as her mom.
Kelly posts both throwback family photos and new ones that feature the family having a great time together, whether it's poolside or beachside. Jolie is totally adorable and clearly full of personality, plus she and Kelly seem to get along great. Jolie accompanies Kelly to premieres, and even helps her out with some dance moves.
Though there may be plenty of tension when it comes to Kelly's relationships with the other ladies (and even with her husband Michael), it's great that Kelly has such a solid bond with her daughter. She might need the comfort if things with Shannon get any worse.