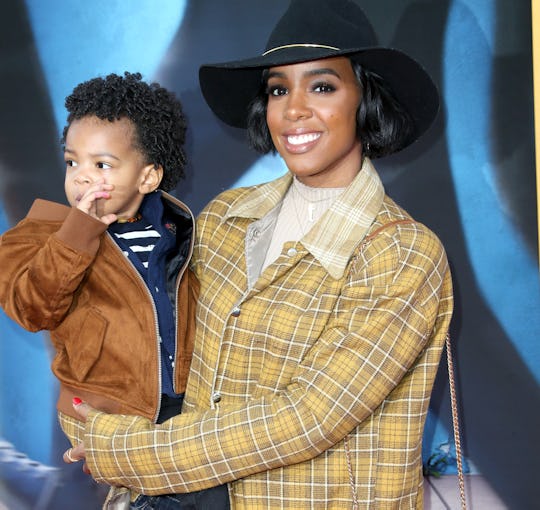 Photo by Frederick M. Brown/Getty Images
Kelly Rowland On Raising A Super Evolved Son, & Recognizing Your Own Greatness
Small children have garnered a reputation for being perpetually dirty — grubby fingers, crumbs around their chin, dried apple juice staining the front of their clothes — but it certainly doesn't ring true for every kid. Take Titan, Kelly Rowland's son, who turns 4 in November. While playing outside recently, she tells me over the phone, he suddenly looked down at his hands and noticed, in dismay, that they were covered in dirt. "Mommy, get this off, get this off right now, my hands are really dirty!" She laughs, recalling his sudden hysterics in a conversation with Romper. "I'm like, is he serious? You're a kid! You're supposed to enjoy playing in dirt!"
With the swift approach of fall, Rowland's family is in full-throttle back-to-school mode — and her goal for this transitional period is to always make it a special, not dreaded, time for Titan. "We get him all excited because I want to him to feel like this is such a great moment; he's a big boy, he's going into a new school year," she says, with a familiar glow of pride that makes me smile.
I communicate with him about everything. If he's doing the most in that moment I'm like, 'Titan, I think we should take a beat.' He kind of looks at me like, 'What is a beat, Mommy?' I'm like, 'Take a breath.'
The singer, who rose to fame as one of the core three in Destiny's Child, reminisces her first day of school traditions as a kid — getting her backpack ready, carefully selecting an outfit — and shares that even now, going into year two of preschool, Titan is doing the same.
"He definitely has input on what he feels like he wants to put on, especially when it comes to tennis shoes," she tells me ruefully. "The apple doesn't fall far from the tree; his father is so obsessed with tennis shoes."
A 4-year-old obsessed with cleanliness and trendy kicks? Rowland says these are inherited traits: her husband and manager, Tim Witherspoon, is a stickler for cleanliness, too. Keeping her house flush with cleaning products that might keep those shoes white and floors clean, she has partnered with Clorox this September in support of Donors Choose, the nationwide crowdfunding service that provides funds to public school teachers in need. "I have friends back home in Texas who are teachers," she tells me. "They always talk about how funding gets cut or just they need more things to do with their kids, and they need the resources for it. Sometimes they pull the money out their own pockets to make it happen!"
As a former public school teacher myself, I told her I can attest to the power of Donors Choose. While we still live in a society where teachers aren't given the funding they need to educate the next generation of young leaders, it's crucial that organizations like this step up to fill the gap.
Kelly has spoken plainly about the difficulties in raising a rambunctious toddler in previous interviews, so I am curious to hear about how she continues to keep her sanity when her pint-sized gift from above goes off the rails. With a 3-year-old at home myself, I'm well-acquainted with the decidedly less picturesque aspects of motherhood. How does she do it? You know, just asking for a friend.
Constant communication, she counsels. "I communicate with him about everything. If he's doing the most in that moment I'm like, 'Titan, I think we should take a beat.' He kind of looks at me like, 'What is a beat, Mommy?' I'm like, 'Take a breath.'"
His school assigns colors to emotions, so he'll sometimes announce that he's "feeling red," which, in my opinion, is pretty mature for a child so young. To further aid him in expanding his emotional literacy, Kelly regularly reads the book Crab and Whale to him — and finds it effective not only because Titan loves whales, but also for its soothing storyline, and its emphasis on the importance of deep breathing.
Sometimes you gotta remind people of your greatness.
Of course, which parent hasn't experienced that hilarious, humiliating moment when a lesson they've taught their child blows up in their face? Kelly Rowland sure has. "This morning while we were in the car he was clearly upset and he said, 'Mommy, I just need some quiet time,'" she tells me, shock still coloring her voice. "I felt like, excuse me? I'm grown!"
Despite being taken aback, she tried slipping back into mommy mode to regain control of the situation. "And then I started talking; I said, "You know, sometimes we just need—" and he said "Mommy! I need some quiet time."
It was great to hear that a hero of mine since childhood also struggles to retain her dignity in front of a small human who has yet to lose any of their milk teeth. Parenthood so often feels like walking into an examination room without ever catching a glimpse of the study guide. But accepting that your failures only make you stronger and wiser is vital — and this is a reminder that comes in all shapes and forms.
Before we hang up, I have to ask Rowland to weigh in on another area of life that can feel constantly demoralizing. I'd been following the trending Twitter hashtag, #ShareYourRejections, and wanted her take on the best way to deal with being shut out of an opportunity you yearn for, sometimes multiple times. After all, her first brush with rejection, during the 1993 Star Search competition, was broadcast far and wide, and remains the humbling origin story of her eventual meteoric career. What advice did she have for young creatives who seems to be stuck at "no"?
"I remember I thought that was the end-all, be-all," she says wistfully, when I bring up the Star Search defeat. "Thank God we had a wonderful support system that told us, look guys, this is not a setback, it's a setup."
Having that basis of encouragement and motivation taught Rowland and her bandmates — including, you know, Beyoncé — that each rejection is simply a nudge toward something greater, and how you use the time you have between auditions is an indicator of your will to succeed.
"It's time for you to work on yourself, to strengthen your gift, to work on your performances, to make the harmonies tighter — just to be better," she advises. And if you're turned away again, that's OK. There's probably something better coming.
But she also noted that it's important to know when to push back. "Sometimes you gotta remind people of your greatness," she laughs, telling me about a time she went to an audition and got the role based on sheer nerve. "They were like, 'Alright, we'll be in touch.' And I said, "I just want you to know I'm down to do the work for this. I'm ready for this role, I'm excited for this role, I will do whatever it takes." Boom. That was all it took. "Greatness takes a lot of work," she says wisely. "And it takes time, but you'll get there."
She certainly did. From global fame, acclaim, and endless red carpets to cleaning the dirt from her toddler's hands, Kelly Rowland embraces all that life has to offer — and accepts the lessons that come along with it. And thanks to her support of Donors Choose, she's helping enable teachers to equip their children with the same sort of confidence and mindfulness that has manifested itself so clearly in her values, as well as her adorable son. And, of course, staying clean while she does it.